ducati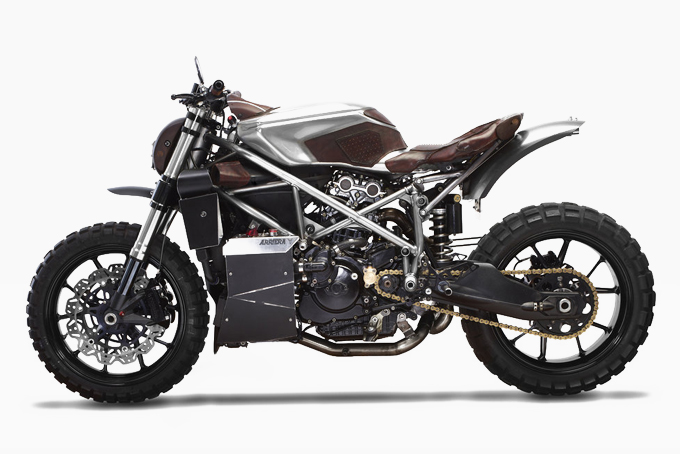 I had a Ducati back in the college days...
It was NOT a 749 Arriera...
My bike was a 250cc get around NYC little deal...
This bad boy is 750cc desmodromic 8 valve liquid-cooled 90° V-twin that we're referencing here. Given the bike's astonishing power straight from the factory, Sebastian Achaval opted to improve its performance through the reevaluation of the exhaust system, which has been rerouted down and to the right, instead of the typical under-seat orientation. Brembo brakes and lines help to bring the Ducati to a standstill, while a 1098 triple tree, Showa forks, and Rizoma straight bars give the cycle an attractive silhouette. But the most interesting aspects of the bike come in the form of Achaval's handcrafted wood and leather detailing, which he implemented throughout the speedo, fairing, and various seat sections...
No idea what any of that means, but it is FAST, and will probably cost more than my old 250 which was like $325 bones!!!
Las Vegas - Nothing on the NBA hardwood today, so we'll lace the skates up, head out West, and buy the Sharks. Why? Because we're all in on the 'Win it for JUMBO JOE!' Have you seen the t-shirts? Fabulous! It's a screen shot of JUMBO with just the helmet and the ginormous beard. Inside the beard it says, 'Win it for Jumbo Joe,' with a Stanley Cup on the side. Think I paid $19.99. Jumbo Joe Thornton might have a lost a few miles on his fastball, and his speed up and down the ice ain't 1997 when he first came up with the Bruins, but one thing he has NOT lost is, THE JUMBO! Actually Joe is not the only reason we're all over San Jose in the opener. The Sharks seem to feast on the opening game of a series at home. They squashed Vegas 5-2 in the opening round, and did the same, 5-2, to Colorado in the second round. And then you have probably the BEST defensive pair in the NHL, All-Stars & Norris Trophy winners, Brett Burns and Erik Karlsson. Du...dun...dun...dun...dun...dun. Yea, Sharks baby!
On the MLB board, we're gonna lean on St. Loo with Miles Mikolas over the Pirates.