italy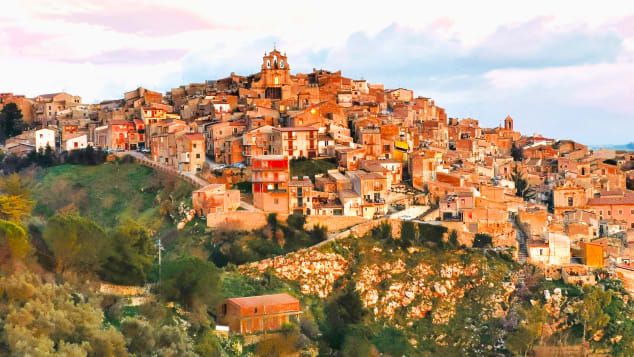 We have dabbled in real estate and done okay...
Look at this gorgeous Italian town in Sicily...
You can buy a house for $1...maybe it's one Euro...
Either way, think I'm gonna but an entire street, and rename it, Ecks & Bacon Blvd...
Las Vegas - Following the bouncing ball on the NBA hardwood, and gonna start with the Nets +6.5 points over the 76ers. But with a caveat. ONLY if Joel Embiid is in street clothes. The last time they played, in Philly, Embiid was a total MONSTER, with 39 points, 13 boards, 6 assists, 3 steals and 1 block. If the Sixers do not have that in the equation, then we're on Crooklyn. If Joel is in the starting five, it's a NO play.
Also gonna try the Nuggets -5 points over the Spurs. The last time they played in Denver, it was the Nuggs in a blowout, 113-85. Don't think this final margin will be that large, but covering a nickel is certainly a strong lean.
On the ice, gonna skate with the Predators over the Stars. They have a tradition in Nashville, like they do in Detroit, except instead of throwing an octopus on the ice, they toss out a catfish. The problem in the opening loss to Dallas was, they only threw out one catfish. Gotta see at least three or more tonight, and it should be a breeze. Actually picking Nashville, not because of the fish, but because the Preds have bounced back with a gorgeous 4-0 PERFECTO in the playoffs the last two years after losing a game at home.
----------------------------------------------------
*eckSTATic*
----------------------------------------------------
For your wagering pleasure, here are your spread stats of the day. Looking at the 76ers/Nets matchup and a little worried that Philly has covered only four of the last 11 heading into the playoffs. However, if you're looking at Brooklyn, the New Yorkers have been a money machine on the road, covering six of the last seven. Looking at the big picture, the Sixers overall spread log sits in the red at 38-44, 21-20 at home and 27-31 as a favorite. The Nets overall spread mark is 45-37, 25-16 on the road and 29-25 as an underdog.
----------------------------------------------------