jehane
Friday, September 8, 2017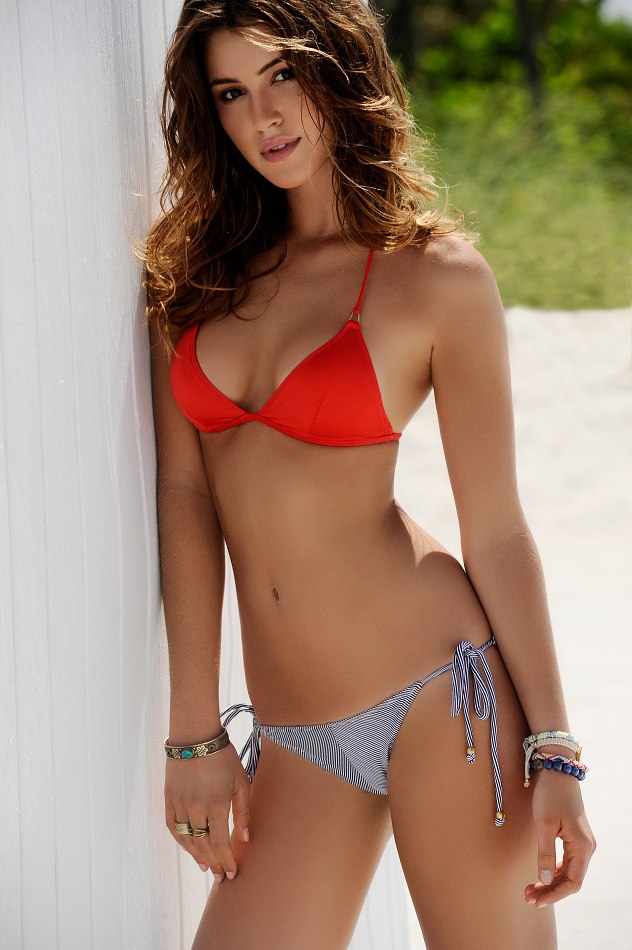 Told Jehane that I didn't mind the two different colors on her bikini...
Anyone else mind???
Some college football for tomorrow, and here's why I jumped on Hawaii +23.5 points over UCLA. Yea sure, the Bruins had an EPIC comeback against Texas A&M, posting a 45-44 victory, but there is still virtually NO defense at the Rose Bowl. And of course UCLA QB Josh Rosen is already being hyped for the Heisman Trophy, but I got another QB to tell you about. Dru Brown of Hawaii. The kid is a MACHINE. He closed last season with 9 TDs and ZERO INTs in Hawaii's last two games, and he already has 5 TDs in his first two games this season. Granted, UMass and Western Carolina are not UCLA caliber, but after the Bruins stunning comeback, they're not gonna be too serious about the Rainbow Warriors. Take +23.5 and run to the window. PLZ check Twitter, @vegasvigorish, for all my other plays.
And if you don't mind laying a ton of wood, the D'backs with Corbin are the side tonight...
----------------------------------------------------
*Odds to win Super Bowl LII*
----------------------------------------------------
Team * Open * Current*
----------------------------------------------------
Patriots * 4/1 * 4/1*
Packers * 8/1 * 8/1*
Seahawks * 10/1 * 10/1*
Steelers * 10/1 * 10/1*
Falcons * 12/1 * 12/1*
Cowboys * 12/1 * 12/1*
Raiders * 15/1 * 15/1*
Giants * 20/1 * 20/1*
Panthers * 22/1 * 22/1*
Chiefs * 22/1 * 22/1*
Broncos * 25/1 * 25/1*
Cardinals * 25/1 * 25/1*
Vikings * 30/1 * 30/1*
Texans * 30/1 * 30/1*
Buccaneers * 35/1 * 35/1*
Titans * 35/1 * 35/1*
Eagles * 40/1 * 40/1*
Ravens * 40/1 * 40/1*
Washington * 50/1 * 50/1*
Colts * 50/1 * 50/1*
Saints * 50/1 * 50/1*
Lions * 50/1 * 50/1*
Bengals * 50/1 * 50/1*
Chargers * 60/1 * 60/1*
Dolphins * 60/1 * 60/1*
Jaguars * 75/1 * 75/1*
Bills * 80/1 * 80/1*
Bears * 100/1 * 100/1*
Rams * 150/1 * 150/1*
49ers * 200/1 * 200/1*
Browns * 200/1 * 200/1*
Jets * 300/1 * 300/1*
----------------------------------------------------
*Odds to win the NFC Championship*
----------------------------------------------------
Team * Open * Current*
----------------------------------------------------
Packers * 5/1 * 5/1*
Seahawks * 6/1 * 6/1*
Falcons * 6/1 * 6/1*
Cowboys * 6/1 * 6/1*
Giants * 10/1 * 10/1*
Panthers * 12/1 * 12/1*
Cardinals * 12/1 * 12/1*
Vikings * 15/1 * 15/1*
Buccaneers * 18/1 * 18/1*
Eagles * 20/1 * 20/1*
Washington * 25/1 * 25/1*
Saints * 25/1 * 25/1*
Lions * 25/1 * 25/1*
Bears * 50/1 * 50/1*
Rams * 60/1 * 60/1*
49ers * 100/1 * 100/1*
----------------------------------------------------
*Odds to win the AFC Championship*
----------------------------------------------------
Team * Open * Current*
----------------------------------------------------
Patriots * 2/1 * 2/1*
Steelers * 5/1 * 5/1*
Raiders * 8/1 * 8/1*
Chiefs * 10/1 * 10/1*
Broncos * 12/1 * 12/1*
Texans * 15/1 * 15/1*
Titans * 18/1 * 18/1*
Ravens * 20/1 * 20/1*
Colts * 25/1 * 25/1*
Bengals * 25/1 * 25/1*
Chargers * 30/1 * 30/1*
Dolphins * 30/1 * 30/1*
Jaguars * 40/1 * 40/1*
Bills * 50/1 * 50/1*
Browns * 100/1 * 100/1*
Jets * 150/1 * 150/1*
----------------------------------------------------
*Odds to win the NFC East*
----------------------------------------------------
Team * Open * Current*
----------------------------------------------------
Cowboys * 8/5 * 8/5*
Giants * 9/5 * 9/5*
Eagles * 3/1 * 3/1*
Washington * 5/1 * 5/1*
----------------------------------------------------
*Odds to win the NFC North*
----------------------------------------------------
Team * Open * Current*
----------------------------------------------------
Packers * 1/2 * 1/2*
Vikings * 3/1 * 3/1*
Lions * 6/1 * 6/1*
Bears * 25/1 * 25/1*
----------------------------------------------------
*Odds to win the NFC South*
----------------------------------------------------
Team * Open * Current*
----------------------------------------------------
Falcons * 3/2 * 3/2*
Panthers * 2/1 * 2/1*
Buccaneers * 7/2 * 7/2*
Saints * 9/2 * 9/2*
----------------------------------------------------
*Odds to win the NFC West*
----------------------------------------------------
Team * Open * Current*
----------------------------------------------------
Seahawks * 1/3 * 1/3*
Cardinals * 5/2 * 5/2*
Rams * 20/1 * 20/1*
49ers * 40/1 * 40/1*
----------------------------------------------------
*Odds to win the AFC East*
----------------------------------------------------
Team * Open * Current*
----------------------------------------------------
Patriots * 1/10 * 1/10*
Dolphins * 8/1 * 8/1*
Bills * 15/1 * 15/1*
Jets * 50/1 * 50/1*
----------------------------------------------------
*Odds to win the AFC North*
----------------------------------------------------
Team * Open * Current*
----------------------------------------------------
Steelers * 1/2 * 1/2*
Ravens * 7/2 * 7/2*
Bengals * 3/1 * 3/1*
Browns * 50/1 * 50/1*
----------------------------------------------------
*Odds to win the AFC South*
----------------------------------------------------
Team * Open * Current*
----------------------------------------------------
Texans * 3/2 * 3/2*
Titans * 2/1 * 2/1*
Colts * 7/2 * 7/2*
Jaguars * 11/2 * 11/2*
----------------------------------------------------
*Odds to win the AFC West*
----------------------------------------------------
Team * Open * Current*
----------------------------------------------------
Raiders * 2/1 * 2/1*
Chiefs * 5/2 * 5/2*
Broncos * 3/1 * 3/1*
Chargers * 4/1 * 4/1*
----------------------------------------------------
*Total Regular Season Wins*
----------------------------------------------------
Team * * Over/Under*
----------------------------------------------------
Patriots * * 11.5*
Seahawks * * 10.5*
Steelers * * 10.5*
Packers * * 10.5*
Falcons * * 10.0*
Cowboys * * 9.5*
Raiders * * 9.5*
Chiefs * * 9.5*
Panthers * * 9.0*
Giants * * 8.5*
Ravens * * 8.5*
Titans * * 8.5*
Eagles * * 8.5*
Texans * * 8.5*
Bengals * * 8.5*
Broncos * * 8.5*
Saints * * 8.5*
Vikings * * 8.5*
Buccaneers * * 8.5*
Colts * * 8.0*
Cardinals * * 8.0*
Lions * * 8.0*
Washington * * 7.5*
Chargers * * 7.5*
Dolphins * * 7.5*
Bills * * 6.5*
Jaguars * * 6.5*
Rams * * 5.5*
Bears * * 5.5*
49ers * * 4.5*
Browns * * 4.5*
Jets * * 3.5*
----------------------------------------------------