College Basketball Weekend Betting Roundup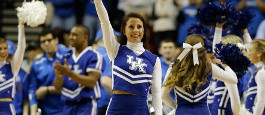 Could bettors be getting an early Final Four preview Saturday when the No. 2 ranked Kansas Jayhawks visit the No. 4 ranked Kentucky Wildcats?
The Jayhawks will be looking to rebound from a loss to the West Virginia Mountaineers on Tuesday night. Kansas was a 3-point road underdog in the 85-69 loss that snapped their 18-game winning streak. The ATS loss may not have been a total shock, as the Jayhawks were only 6-10 ATS during their streak.
The Wildcats also lost on Tuesday night, falling to the Tennessee Volunteers 82-80 as a 10.5-point road favorite. That snapped a seven-game winning streak for the Wildcats and dropped them to 1-4 ATS in their last five games.
At home the Wildcats will obviously be favored at the Bovada sportsbook. Kentucky is 29-1 SU and 20-10 ATS in their last 30 home games. The Jayhawks are 9-1 SU and 6-4 ATS in their last 10 on the road, but in their last 10 games as the underdog they are 5-5 SU and 6-4 ATS.
Last season the Jayhawks defeated the Wildcats 90-84 as a 5.5-point home favorite. In the last nine matchups between the two college basketball powerhouses the Wildcats are 5-4 SU and 4-5 ATS.
The stumbling Duke Blue Devils will try and right the ship on Saturday when they visit the Wake Forest Demon Deacons.
Duke has lost three of their last four games following an 84-82 loss to the N.C. State Wolfpack on Monday as a 16.5-point favorite. The Blue Devils have been especially hard on bettors lately with a 2-7 ATS record in their last nine games.
Wake Forest is only 12-8 SU on the season and 11-9 ATS. They have had some success at home with a 7-2 record SU and 6-2 mark ATS. In their last game as a home underdog they upset the Miami Hurricanes 96-79 as a 1.5-point underdog.
Duke has dominated the matchup with four straight wins and a 12-1 record in their last 13 versus the Demon Deacons. In those 13 games the Blue Devils were 6-7 ATS.
The Baylor Bears are also in action on Saturday, as the No. 5 ranked team in the nation visits the Mississippi Rebels. The Bears have won their last four, but they were only 2-2 ATS and they're 2-5 ATS in their last seven. The Rebels are a solid 8-4 SU at home this season, but only 4-8 ATS.