Ecks & Bacon....Feel The Sizzle!!!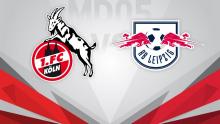 Las Vegas - Gotta give you more from the German Bundesliga as FC Cologne hosts RB Leipzig. And you can sleep in today because the game doesn't start till 2:30 PM in New York, 11:30 AM here in Vegas. The visitors come in as a hefty -$190 favorite, while the home side is +$475. Leipzig (55 points) is fighting for a spot in the UEFA Champions League, currently sitting in 5th place, only one point behind Monchengladbach (56 points) and Leverkusen (56 points). The Red Bulls, or, Die Roten Bullen if you speak German, can FILL up the net. With 70 goals so far, the Bulls trail only Bayern (86 goals) and Dortmund (74 goals). Leipzig has allowed just 29 goals, making for a gorgeous +41 goal differential. The hosts, call 'em Cologne or, Koln, also go by the fabulous nickname, Billy Goats. And the logo, which is a goat balanced on a circle with two castle towers, is quite spectacular. However, the Goats are sitting in the 11th slot in the Bundesliga standings with just 34 points on 10 wins, 14 losses and 4 draws. Speaking of draws, Leipzig has drawn 10 times this season, the most in the league, while Cologne has draws in two of its last four games. So, after a clean sweep yesterday for the millions of readers in the Ecks & Bacon Nation (both picks, both Borussias, won in a breeze, Monchengladbach 4-1 and Dortmund 6-1), we're gonna back the Red Bulls to win, our big wager, and then throw a few pennies at the draw as a backup.
----------------------------------------------------
*German Bundesliga*
----------------------------------------------------
RB Leipzig * -$190*
FC COLOGNE * +$475*
Draw * +$350*
Over/under goal total * 3.5 goals*
----------------------------------------------------
NOTE: All wagers for any draw are based on the result at the end of 90 minutes of regulation time plus injury or added time (there is no extra time/overtime or shootout during the regular season of the German Bundesliga).
NOTE: In order to read the money line for soccer, use the RB Leipzig vs. FC Cologne game as an example. If you wanted to wager on the favorite, Leipzig, you would put up $190 to win back $100. If you wanted to wager on the underdog, Cologne, you would put up $100 to win back $475. If you wanted to wager on a draw, you would put up $100 to win back $350 (use $100 as the base unit).
----------------------------------------------------