Ecks & Bacon....Feel The Sizzle!!!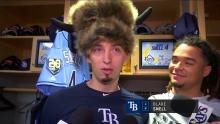 Wednesday, October 21, 2020
Las Vegas - Blake Snell is on the mound for the Rays in game two and the Dodgers have announced Tony Gonsolin their starter. Most likely, Snell will not be wearing that hat in the playoffs. He was lights out against the Blue Jays in the Wildcard round, going 5.2 innings, allowing only 1 hit and 0 earned runs. Against the Yankees in the ALDS, he gave up 6 hits and 4 earned in just 5 innings. Then in the ALCS against the Astros, he had two starts, won one, lost one, but was touched up for 9 hits and 3 earned in 9 innings of work.
For the Dodgers, it's Tony Gonsolin. Tony was banged around pretty good by Atlanta, allowing 7 earned runs in just 6.1 innings of work, which worked out to a BLOATED 9.95 ERA. Urias was fabulous in game seven (3 innings, 0 hits, 0 earned runs), has four wins already in the playoffs so far, and owns a STUPID 0.56 ERA. Getting a nice underdog price with the Rays at +$125, so we'll take a little bite.
If you're looking for some soccer, gotta side in the UEFA Champions League this afternoon. Come with me to Amsterdam where we'll tickle Ajax at home as a +$370 underdog against a Liverpool team WITHOUT one of the best players in the world, Virgil van Dijk.
------------------------------------------------------------------