Ecks & Bacon....Feel The Sizzle!!!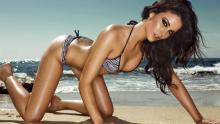 Hayley Pasco looks like she has a problem with her neck....
Anyone know a good chiropractor???
Pennies man. FREAKIN' PENNIES!!! Forget about the glamour and glitz of baccarat, craps, roulette, blackjack and even sports betting, pennies make the casino owners dance to the bank. Check it out. In the state of Nevada, for the month of June, casinos collected $15 million and change from my people in the sports wagering space. Next up, it was $25 million from the folks that liked to spin the roulette wheel. The craps tables provided a win of $32.5 mill. The fancy schmancy people that sit at the baccarat tables donated just over $66 mill to the house and the blackjack raked in $85 million. But the pennies, YES, the pennies, brought home over $255 MILLION! Save your pennies kids, they could be worth a fortune. If you OWN a casino!!!
And if you wanna hear the ORIGINAL "Pennies From Heaven" click this link...
https://www.youtube.com/watch?v=7AzRB-hS3qY
Looking at the Nationals tonight with Tanner Roark over the Rockies...