Ecks & Bacon....Feel The Sizzle!!!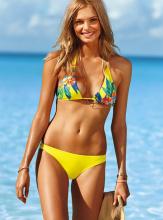 Katsia is from Minsk...
Think my family still has some people over there...
I'll check and see if we are related...
The circus has come to Vegas, aka, the Floyd (Money) Mayweather Jr. vs. Conor (The Notorious) McGregor fight this Saturday. Got a ton of prop bets on the board, but finally might have found the one to actually thrown down on. The prop is, who will BLEED first? As you might imagine, McGregor is the favorite at -$460, while Mayweather is the dog at +$380. For those not down with the money line, here's how. If you wanted wager on the favorite, The Notorius, you would have to walk up to the counter and lay down $460 to win back $100. If you wanted to wager on the underdog, Money, you would bring up a full Benjamin to win back $380 (just to make the math easy, use $100 as the base unit). Believe I'm gonna throw down of Money Mayweather and call for McGregor to catch him with a stray elbow or toe. Amount to come.
ANOTHER winning week here at Ecks & Bacon. A very small add to the bank of +$20 for the week, but the key word, or, actually symbol, is a plus. And the grind continues.
----------------------------------------------------
*Odds to win the 2017 College Football Championship*
----------------------------------------------------
Team * Odds*
----------------------------------------------------
Alabama * 3/1*
Ohio State * 5/1*
Florida State * 7/1*
USC * 8/1*
Oklahoma * 10/1*
Michigan * 15/1*
LSU * 15/1*
Penn State * 20/1*
Clemson * 20/1*
Auburn * 25/1*
Louisville * 25/1*
Washington * 30/1*
Georgia * 30/1*
Oklahoma State * 35/1*
Texas * 40/1*
Florida * 50/1*
Wisconsin * 50/1*
Miami-Florida * 60/1*
Notre Dame * 60/1*
Virginia Tech * 80/1*
Tennessee * 80/1*
UCLA * 80/1*
Stanford * 80/1*
TCU * 100/1*
West Virginia * 100/1*
Washington State * 100/1*
South Florida * 125/1*
----------------------------------------------------
*Odds to win the SEC*
----------------------------------------------------
Team * Odds*
----------------------------------------------------
Alabama * 1/2*
Auburn * 6/1*
LSU * 7/1*
Florida * 8/1*
Georgia * 10/1*
Tennessee * 15/1*
Texas A&M * 40/1*
Arkansas * 50/1*
Mississippi State * 80/1*
Kentucky * 100/1*
South Carolina * 100/1*
Missouri * 200/1*
Vanderbilt * 250/1*
Ole Miss * xx/1*
----------------------------------------------------
*Odds to win the ACC*
----------------------------------------------------
Team * Odds*
----------------------------------------------------
Florida State * 6/5*
Clemson * 7/2*
Louisville * 5/1*
Miami-Florida * 7/1*
Virginia Tech * 8/1*
NC State * 20/1*
North Carolina * 30/1*
Pittsburgh * 35/1*
Georgia Tech * 35/1*
Duke * 80/1*
Syracuse * 150/1*
Boston College * 200/1*
Virginia * 200/1*
Wake Forest * 200/1*
----------------------------------------------------
*Odds to win the Big Ten*
----------------------------------------------------
Team * Odds*
----------------------------------------------------
Ohio State * 4/5*
Wisconsin * 3/1*
Penn State * 5/1*
Michigan * 6/1*
Northwestern * 20/1*
Nebraska * 20/1*
Iowa * 25/1*
Minnesota * 30/1*
Michigan State * 40/1*
Indiana * 100/1*
Maryland * 100/1*
Illinois * 200/1*
Purdue * 250/1*
Rutgers * 250/1*
----------------------------------------------------
*Odds to win the Big 12*
----------------------------------------------------
Team * Odds*
----------------------------------------------------
Oklahoma * even*
Oklahoma State * 7/2*
Texas * 6/1*
Kansas State * 7/1*
TCU * 10/1*
West Virginia * 15/1*
Baylor * 30/1*
Texas Tech * 100/1*
Iowa State * 250/1*
Kansas * 500/1*
----------------------------------------------------
*Odds to win the Pac 12*
----------------------------------------------------
Team * Odds*
----------------------------------------------------
USC * 4/5*
Washington * 3/1*
Stanford * 6/1*
Oregon * 10/1*
UCLA * 12/1*
Washington State * 15/1*
Utah * 18/1*
Colorado * 25/1*
Arizona State * 75/1*
Arizona * 100/1*
Oregon State * 100/1*
California * 150/1*
----------------------------------------------------
*Odds to win the American Athletic Conference*
----------------------------------------------------
Team * Odds*
----------------------------------------------------
South Florida * 4/5*
Memphis * 5/1*
Houston * 6/1*
Tulsa * 8/1*
UCF * 10/1*
Navy * 12/1*
Temple * 15/1*
Cincinnati * 30/1*
SMU * 30/1*
Tulane * 60/1*
East Carolina * 100/1*
Connecticut * 150/1*
----------------------------------------------------
*Odds to win the Mountain West*
----------------------------------------------------
Team * Odds*
----------------------------------------------------
San Diego State * 3/2*
Boise State * 5/2*
Colorado State * 5/1*
Wyoming * 8/1*
Air Force * 25/1*
Utah State * 35/1*
New Mexico * 35/1*
UNLV * 35/1*
Hawaii * 40/1*
Nevada * 50/1*
San Jose State * 100/1*
Fresno State * 200/1*
----------------------------------------------------
*Odds to win Conference USA*
----------------------------------------------------
Team * Odds*
----------------------------------------------------
Western Kentucky * 4/5*
Middle Tennessee * 5/1*
Louisiana Tech * 6/1*
UTSA * 7/1*
Southern Miss * 10/1*
Old Dominion * 15/1*
Marshall * 18/1*
Florida Atlantic * 20/1*
North Texas * 50/1*
Florida International * 50/1*
Rice * 50/1*
UAB * 150/1*
Charlotte * 200/1*
UTEP * 250/1*
----------------------------------------------------
*Odds to win the MAC*
----------------------------------------------------
Team * Odds*
----------------------------------------------------
Toledo * 3/2*
Western Michigan * 5/2*
Ohio U. * 7/1*
Miami-Ohio * 8/1*
Northern Illinois * 10/1*
Central Michigan * 12/1*
Akron * 20/1*
Eastern Michigan * 25/1*
Bowling Green * 30/1*
Ball State * 40/1*
Kent State * 50/1*
Buffalo * 100/1*
----------------------------------------------------
*Odds to win the Heisman Trophy*
----------------------------------------------------
Player * School * Odds*
----------------------------------------------------
Sam Darnold * USC * 4/1*
Baker Mayfield * Oklahoma * 6/1*
Lamar Jackson * Louisville * 7/1*
J.T. Barrett * Ohio State * 8/1*
Saquon Barkley * Penn State * 10/1*
Derrius Guice * LSU * 12/1*
Bo Scarbrough * Alabama * 15/1*
Jake Browning * Washington * 15/1*
Trace McSorley * Penn State * 20/1*
Deondre Francois * Florida State * 20/1*
Jalen Hurts * Alabama * 20/1*
Mason Rudolph * Oklahoma State * 20/1*
Jarrett Stidham * Auburn * 22/1*
Josh Rosen * UCLA * 22/1*
Nick Chubb * Georgia * 25/1*
----------------------------------------------------
*BOXING*
----------------------------------------------------
Floyd (Money) Mayweather Jr. -$500*
vs.
Conor (The Notorious) McGregor +$400*
----------------------------------------------------
*Round by round winning proposition*
----------------------------------------------------
Mayweather * Winning Round * McGregor*
----------------------------------------------------
30/1 * Round 1 * 40/1*
25/1 * Round 2 * 40/1*
20/1 * Round 3 * 40/1*
18/1 * Round 4 * 40/1*
15/1 * Round 5 * 40/1*
15/1 * Round 6 * 40/1*
12/1 * Round 7 * 40/1*
12/1 * Round 8 * 50/1*
15/1 * Round 9 * 50/1*
15/1 * Round 10 * 60/1*
18/1 * Round 11 * 80/1*
20/1 * Round 12 * 80/1*
----------------------------------------------------
*Method of Victory*
----------------------------------------------------
Mayweather by decision * 8/5*
Mayweather by KO, TKO or DQ * 4/5*
McGregor by decision * 40/1*
McGregor by KO, TKO or DQ * 6/1*
Fight will end in a draw * 40/1*
Mayweather by unanimous decision * 2/1*
Mayweather by majority decision * 25/1*
Mayweather by split decision * 30/1*
McGregor by unanimous decision * 100/1*
McGregor by majority decision * 100/1*
McGregor by split decision * 100/1*
----------------------------------------------------
*What will happen in the 1st round*
----------------------------------------------------
Mayweather gets knocked out * 35/1*
McGregor gets knocked out * 35/1*
Mayweather gets knocked down * 10/1*
McGregor gets knocked down * 8/1*
Mayweather has a point deducted * 50/1*
McGregor has a point deducted * 10/1*
Either fighter gets knocked out * 15/1*
Either fighter gets knocked down * 7/1*
Either fighter has a point deducted * 8/1*
----------------------------------------------------
*Group rounds winning proposition*
----------------------------------------------------
Mayweather * Winning Rounds * McGregor*
----------------------------------------------------
8/1 * Rounds 1 - 3 * 18/1*
5/1 * Rounds 4 - 6 * 20/1*
4/1 * Rounds 7 - 9 * 18/1*
6/1 * Rounds 10 - 12 * 22/1*
----------------------------------------------------
*Total rounds*
----------------------------------------------------
Over 9.5 rounds * 3/2*
Under 9.5 rounds * 1/2*
----------------------------------------------------
*How will the fight end*
----------------------------------------------------
Unanimous decision * 5/2*
Technical KO * 3/2*
Split decision * 18/1*
KO * 2/1*
DQ * 6/1*
Majority decision * 20/1*
Technical decision * 50/1*
----------------------------------------------------
*Total Knockdowns*
----------------------------------------------------
Over 1.5 Knockdowns * 6/5*
Under 1.5 Knockdowns * 1/2*
----------------------------------------------------
Over 2.5 Knockdowns * 3/1*
Under 2.5 Knockdowns * 1/5*
----------------------------------------------------
Over 3.5 Knockdowns * 5/1*
Under 3.5 Knockdowns * 1/10*
----------------------------------------------------
*Will there be a point deduction*
----------------------------------------------------
No * 1/3*
Yes * 5/2*
----------------------------------------------------
*Will there be a low blow*
----------------------------------------------------
No * 1/2*
Yes * 3/2*
----------------------------------------------------
*Will McGregor kick Mayweather*
----------------------------------------------------
No * 1/10*
Yes * 6/1*
----------------------------------------------------
*Total number of PPV Buys*
----------------------------------------------------
Over 4.8 million buys * +$120*
Under 4.8 million buys * even*
----------------------------------------------------
*To win in 60 seconds*
----------------------------------------------------
Either fighter to win in 60 seconds * 20/1*
Mayweather to win in 60 seconds * 25/1*
McGregor to win in 60 seconds * 30/1*
----------------------------------------------------
*To be knocked down*
----------------------------------------------------
Mayweather * 3/1*
McGregor * 1/2*
----------------------------------------------------
*To be knocked down and win*
----------------------------------------------------
Mayweather * 5/1*
McGregor * 12/1*
----------------------------------------------------