Ecks & Bacon....Feel The Sizzle!!!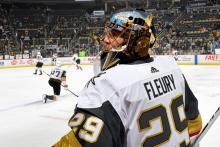 Tuesday, December 10, 2019
Las Vegas - Sounds kinda weird when it's almost 60 degrees outside, but we're gonna lace up the skates here in Vegas and rock the Golden Knights over the Blackhawks. Vegas was just EMBARRASSED, at HOME, by the New York Rangers on Sunday night, 5-0. Lousy loss for sure, but it was Malcolm Subban, P.K.'s little brother, in goal, instead of Marc-Andre Fleury. The Flower is a CONSIDERABLE upgrade, and as long as he is minding the net, then the final score on this KNIGHT should be GOLDEN. See how we did that!
----------------------------------------------------