Ecks & Bacon....Feel The Sizzle!!!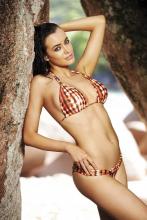 Do you have a caption for this picture???
I'm calling it...
"Between a rock and a hard place"
Maybe you can do better...
Third time is a charm, but for who??? SEC rivals South Carolina and Florida hooked up twice during the regular season, and as you might expect, it was a home cookin' split. The Gamecocks hosted the Gators in January down in Columbia, and posted a 57-53 victory as a -2 point favorite. The total for that game was 135.5, an easy under. In the rematch at Gainesville, Florida got a little revenge, rolling to an 81-66 W as a -7.5 point favorite. The total there was 136.5, an easy over. Have another rematch in the late game between North Carolina and Kentucky. Back in December, the Tar Heels went off as a -1 point favorite here in Vegas, but wound up on the short end of a 103-100 score. Of course, the total flew WAY over the projected number which closed at 171. If Kentucky plays D like they did against UCLA, you can probably expect another under. But with the total set at 158.5, we're not buying. However, we are gonna buy, yup, another two team 6-point teaser. Gonna grab South Carolina, and bump the Gamecocks up from +3 to +9 points against Florida, and in the nightcap, take the 'Cats from +2.5 to +8.5 points against the Heels.