Ecks & Bacon....Feel The Sizzle!!!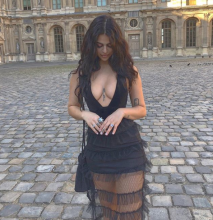 Tuesday, November 20, 2018
THIS INSTAGRAM MODEL WAS REFUSED ENTRY TO THE LOUVRE BECAUSE HER OUTFIT WAS TOO REVEALING...
Thoughts???
Gonna take a deep breath and put up a pass on all the games.
However, you still have time to get your Tiger/Phil questions to my inbox for the press conference that starts at 4pm EST. And whoever has the question that I use will get a gorgeous, 2018, nah, it ain't a car, but rather a hot dog from Pink's here in Vegas. Start typing. And would LOVE it if you followed me on Twitter, @vegasvigorish. I'll be LIVE tweeting from the Shadow Creek Golf Course, and WAY more important, LIVE BETTING BABY!!!