Ecks & Bacon....Feel The Sizzle!!!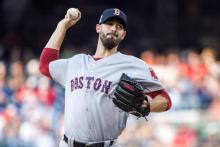 Wednesday, August 21, 2019
Las Vegas - Gonna take a look at the Red Sox with Rick Porcello over the Phillies and Drew Smyly. Not totally thrilled with Porcello's work this season. He has given up a ton of runs but has also won six of the last eight. The problem is Smiles. Not quite sure what Philly sees or saw with Smyly, so maybe Matt Klentak or someone from his office can call me. Or, if you're in Vegas, we can drop in for some glorious Thai food, my treat. Drew missed two years after Tommy John, then came back this season with the Rangers. It WASN'T pretty. His record was 1-5 with a BLOATED 8.42 ERA. Actually, Smyly's first two starts for the Phils were as good as it gets, allowing only one earned run over 13 innings. However, the last three starts, you know what comes next, can legit be called UGLIFIED! How ugly? Talking about 18 hits and 14 earned runs in 15 innings. That is NOT gonna make it at Fenway.
------------------------------------------------------------------