Ecks & Bacon....Feel The Sizzle!!!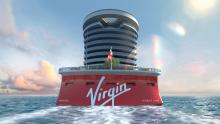 Sunday, February 17, 2019
Over the last 30 years or so, we've had hundreds of requests for the BEST food in town, the BEST shows, the BEST hotels, the BEST clubs, and of course, the BEST sportsbooks...
Been to just about every restaurant, hotel, show and of course, sportsbook...
Here are some of my thoughts...
And if you have a question about anything Vegas, or anywhere around the globe, hit me baby!!!
I have NEVER been on a cruise ship...don't particularly like to sail, and after hearing all the horror stories aboard the ships, UH UH!!!
However, when Richard Branson talks, I listen...after conquering the air, his Virgin brand takes on the water, and I'm ALL in!!!
----------------------------------------------------
Back to Colorado where the Buffaloes are looking to sweep the Arizona schools in Boulder. The Buffs beat Arizona State Thursday night, 77-73, covering the 1.5 point spread. That made it 4-0, straight up and against the spread since February 2. Now they get the Wildcats from Tucson who come into the CU Events Center with an 0-6 negative perfecto, yes, straight up and against the spread. By the way, just in case you ever go on Jeopardy, the CU Events Center is the highest indoor arena (5,328 feet) in the Pac 12. Might not be a stampede, but the Buffaloes should be able to post another W, and a cover.
----------------------------------------------------
*eckSTATic*
----------------------------------------------------
For your wagering pleasure, here are your spread stats of the day. Staying on the college hoop board, we're gonna take a look at the Big Ten where Michigan State is hosting Ohio State. The Spartans had quite a spread run at the end of December into early January, ripping off nine straight covers. They lost three in a row after that, but have covered the last two, so maybe another long streak is on tap. Tom Izzo's kids have a very healthy overall spread log of 18-7, 9-3 at home and 18-5 as a favorite. The Buckeyes overall spread mark is in the red at 10-14, 4-3 on the road and 3-4 as an underdog.
----------------------------------------------------