Ecks & Bacon....Feel The Sizzle!!!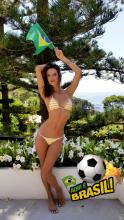 Wednesday, December 12, 2018
WOW...
After all these years, always thought they spelled Brazil with a Z in the middle and not an S...
THANK YOU Alessandra!!!
BOXING REPORT: In the WBA welterweight title fight on January 19 in Las Vegas, Nevada, Manny "Pac Man" Pacquiao (60-7-2, 39 KOs) is -$280 vs. Adrien "The Problem" Broner (33-3-1, 24 KOs) at +$240; in the IBF welterweight title fight on March 16 at Arlington, Texas, Errol "The Truth" Spence Jr. (24-0-0, 21 KOs) is -$500 vs. Mikey "Grandpa" Garcia (39-0-0, 30 KOs) at +$400.