Ecks & Bacon....Feel The Sizzle!!!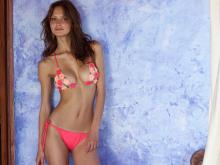 Say hello to Pania Rose from Australia...
And when you click to enlarge, you're gonna LOVE her flowers!!!
And the offers come rolling in. Dennis Hof, owner of the Bunny Ranch in Mound House, Nevada, is one of the first to offer O.J. Simpson a job. Hof told TMZ that O.J. could work as a "greeter" at the Ranch and would be able to live on site as long as he keeps the job. "One of the conditions of a prisoner being granted parole is always having an established place to live and a job to go to, and I can offer O.J. both of those in a unique situation," Hof said.
Another winning week here at Ecks & Bacon. Had a bunch of golfers and Jordan Spieth brought home the bacon with an incredible final round. After doing all the math, we added +$70 to the bank. The key word, or, actually symbol, being a plus. And the grind continues.