Ecks & Bacon....Feel The Sizzle!!!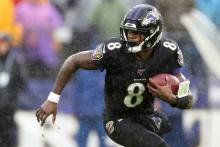 Thursday, December 12, 2019
Las Vegas - Playing Lamar Jackson against the Jets tonight would a YUGE mistake. How YUGE? Lets just say dumber than Nick Cannon throwing down with Eminem on Twitter. Baltimore is sitting at 11-2 and should be able to run the rest of the table, at Cleveland, home to Pittsburgh, with no trouble. So, why expose Jackson and his balky quad? I mean, C'MON, the Ravens could beat the Jets with my old friend Michael Barkann at QB. Not sure about his arm, but we know that Bark can run, because we saw some grainy black & white video from his cross country days at East Brunswick High. The New Yorkers have had a tough time against the AFC North this season, losing to the Browns, 23-3 and the Bengals, 22-6. Now they get the KINGS of the NORTH, and it should be a no contest. However, we're thinking that John Harbaugh treats this like an exhibition game, excuse me, preseason, and maybe plays the starters a half, maybe three quarters. Not really interested in opening the wallet, but if Lamar does sit, and Robert Griffin III is under center, the line will drop a few points. The cagey Harbaugh will probably not announce till Sunday, keeping everyone in the dark. Lean, ever so slightly to the Jets +15.
----------------------------------------------------