Ecks & Bacon....Feel The Sizzle!!!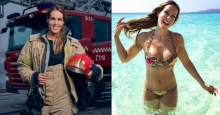 Friday, September 22, 2017
Not sure what fire house she is at, but I'm gonna scan the world till I find out...
HEROES! Guys who run INTO a burning building while everyone else is running out. That's what FIRE does. Among others on the Ecks & Bacon menu are a couple of guys from the Norwalk Fire Department, specifically
Station #4, and more specifically, Coach and G-Money Geter. Came all the way from Connecticut, dropped off a hat and a T-shirt for me here in Vegas, and am PROUD to wear it. Actually, wearing the T as I type this column. Told the boys that if all goes well, and we have a winning week, I wear the shirt every Thursday. If we wind up in the red, my dog Hudson gets it for a blanket. Have SO much RESPECT and ADMIRATION for ALL firefighters. THX fellas.
On the baseball board, gotta have the D'backs with Zack Greinke over the Marlins...sure the price is high, but Greinke is FREAKIN' 13-1 at home!!!