Ecks & Bacon....Feel The Sizzle!!!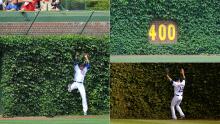 Wednesday, August 10, 2022
Las Vegas - Have not made that many trips to Wrigley Field this season, but thinking about Justin Steele and the Cubs this afternoon. Steele has shown a strong arm the last three outings, allowing only one earned run over the last 13 innings. And it looks like the Cubbies have perked up after finding out that Wilson Contreras was not gonna be traded, winning six of the last seven inside the 'Friendly Confines.' Washington continues to struggle, losing eight of the last nine (not including last night), and Josiah Gray has been one of the problems. Gray has only one win in his last 10 starts, and has given up 18 earned runs over the last 19 innings. A one, a two, a three, and my money is on the Cubbies.
------------------------------------------------------------------