Ecks & Bacon....Feel The Sizzle!!!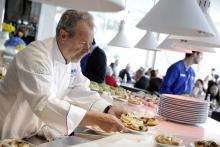 Friday, February 15, 2019
Las Vegas -
Over the last 30 years or so, we've had hundreds of requests for the BEST food in town, the BEST shows, the BEST hotels, the BEST clubs, and of course, the BEST sportsbooks...
Been to just about every restaurant, hotel, show and of course, sportsbook...
Here are some of my thoughts...
And if you have a question about anything Vegas, hit me baby!!!
This is a picture of my friend Julian Serrano...
He has three restaurants in Vegas...
Picasso and Lago at the Bellagio, and Julian Serrano Tapas at the Aria...
Go to any of the three and your taste buds will thank you forever...
----------------------------------------------------
Thinking about riding the Zamboni again tonight, down in Carolina, and taking the Hurricanes over the Oilers. The 'Canes have been rock solid at home, winning six of the last eight, while Edmonton has been having all sorts of problems, and has lost eight of the last nine. Not buying Oil this evening!
----------------------------------------------------
*eckSTATic*
----------------------------------------------------
For your wagering pleasure, here are your spread stats of the day. Jumping on to the college hoop board, we're looking at the Atlantic 10 Conference where Davidson is hosting St. Joseph's. The Wildcats from North Carolina share the A10 penthouse with Virginia Commonwealth at the moment with an 18-6 straight up record. Davidson's overall spread log sits at 13-10, 7-3 at home and 11-8 as a favorite. The Hawks from Philly are under water with an 11-14 straight up mark, and WAY under water against the spread, sitting at 8-16-1 overall, an ugly 2-7 on the road and 3-8 as an underdog.
----------------------------------------------------