Ecks & Bacon....Feel The Sizzle!!!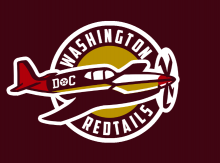 Las Vegas - Looks like the Washington Redskins are gonna finally change their name.
And of course, we have odds. The Washington Red Tails are the current favorite at 3/1, and that would be VERY cool. Why? The Red Tails is a name used to honor the Tuskegee Airmen who fought in World War II, and was due to the distinctive red paint used on the tails of their fighter aircraft. Next up is the Generals at 4/1, the Presidents at 5/1, the Lincolns at 6/1, the Veterans at 8/1, the Americans/Memorials/Monuments at 10/1, the Kings/Roosevelts at 12/1, the Redhawks at 15/1, the Jeffersons at 20/1 and the Arlingtons at 25/1. Not throwing down, but REALLY like the Red Tails.
Staying in England and looking at the Chelsea/Crystal Palace match. Frank Lampard's Blues are fighting for a spot in the top four, which means a ticket to the UEFA Champions League. They are sitting in the 4th slot on 57 points, with 17 wins, 10 losses and 6 draws. They've scored 60 goals and allowed 44 for a pretty sweet +16 goal differential. Palace is way down in the 14th spot on 42 points, with 11 wins, 13 losses and 9 draws. The Eagles have scored 28 goals and allowed 40 for a -12 goal differential.
A few interesting stats that put Chelsea on my radar. The Blues have scored 33 away goals, which is the second BEST in the Premier League, while Palace have found the net a league-WORST 12 times at home. And the final nail in the coffin, or, reason why we're throwing down, since the restart, Roy Hodgson's Eagles have eaten three straight bagels (0-3 to Leicester City, 0-1 to Burnley and 0-4 to Liverpool). Adding it up, that's Palace ZERO, opponents EIGHT! As the great, great, GREAT Joni Mitchell would say, "Woke up, it was a Chelsea morning, and the first thing that I heard, Was a song outside my window, and the traffic wrote the words." If you dig a little deeper into the lyrics, Joni also asked for a FULL Benjamin on Chelsea to win.
Of course, I will be ALL OVER Arsenal in the game against Leicester City, but you know me, and that's my heart over my head. However, there are some amazing numbers that push me to my guys. The Gunners have yet to taste a home league defeat in 2020, grabbing 16 points from a possible 18 at the Emirates. And the kids from Leicester have not won a league game at Arsenal since 1973. That's FORTY SEVEN years BAABBBEEE!!!
------------------------------------------------------------------