Ecks & Bacon....Feel The Sizzle!!!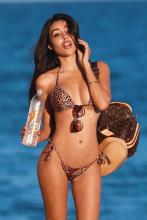 Friday, November 17, 2017
Told Sonya that I like the 138 Water, like the Louis Vuitton bag, totally dig the bikini and LOVE the sunglasses!!!
When do you stop worrying about your kids? What age? When they're in the 20s, 30s? Okay, maybe never. My boy took a cross country flight from Los Angeles to New York, and we had him staying with a friend up in Tarrytown for the night. His plane hit JFK a few minutes before 10:00 pm, and told him to grab an Uber. Nah, he's a big shot and gonna take the AirTrain to the E and then to 125th for $7.75. Then he hits Metro-North up to T-town. Sure he's saving like $35/40 bones, but the knucklehead didn't get up to Tarrytown till after 1:00 am. And of course, we didn't get to sleep till he was in bed. When do you stop worrying? Guess the answer is NEVER!
Looking over the college hoop board, and think I've found a spot to open the wallet, and it's right here in my home town. Thinking about Eastern Washington +13 points against UNLV. Check me out later on Twitter, @vegasvigorish, for the final word.