Ecks & Bacon....Feel The Sizzle!!!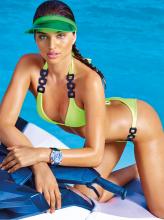 Have to look REAL close but believe that I have the same watch as Daniela Lopez-Osorio...
Maybe the sportsbook managers will stop WHINING, for at least a month. According to the Nevada Gaming Control Board, more money was bet -- and lost -- on basketball at Nevada sportsbooks this past March than in any other month in the state's regulated sports betting history. The key word there being HISTORY! A record $439.5 million was wagered on basketball, both college and pro, last month. The sportsbooks held a record $41.2 million of the amount bet on basketball, destroying the previous mark set in March 2015 by more than $13 million. So, March of 2017 became the most delicious month of hoops, EVER!
Rolling up to Salt Lake City tonight and gonna tickle the Jazz over the Clippers. NO way Utah wants to head back to Los Angeles for a game seven, so it's time to shut the front door. If you have not watched the Jazz play, check out Gordon Hayward. Loved him when he was at Butler, and love him in Utah. So smart, so talented, such a HIGH basketball IQ. With NO Blake Griffin for the Clips, and Rudy 'The Stifle Tower" Gobert back in Utah's lineup, ya gotta gimme half a Benjamin on the Jazz.