Ecks & Bacon....Feel The Sizzle!!!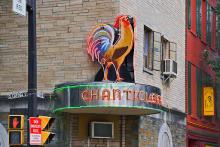 Wednesday, October 20, 2021
Las Vegas - Hard to tell how good 6-0 Coastal Carolina is, but they do have THE BEST nickname in ALL of college football. The Chanticleers!!! Just in case you were wondering, a chanticleer is a rooster. And if you wanted to go a little deeper, the name is a combination of the French words chanter (to sing) and clair (clear). If you didn't want that information, excusez-moi! Coastal's offense has been devastating, scoring 293 points in six games. That's an average of 48.8 per. And you can put most of it on Grayson McCall's right arm. Tell me about his arm Eck? How about 87 of 109 (79.8%) for 1,478 yards, with, are you sitting, FOURTEEN TDs and just one INT! Throw in last season, with 26 TDs and 3 INTs, and you got a two year total of FORTY TDs and 4 INTs. Numbers Tom Brady would be proud of. Look for the name Isaiah Likely to pop up on the screen a whole bunch. That's the TE and in the last game against Arkansas State, he had eight grabs for 232 yards and FOUR TDs. Grayson has some weapons in his quiver huh. But it's a road game Eck, won't that be an issue? Nah. The Chanticleers come into Appalachian State's house riding a gorgeous 7-0 perfecto on the road. Seeing Coastal mostly -4.5 points, but there are some -4s out there. Find the four and take it right to the bank baabbbeee!!!
The Red Sox and Astros have confirmed the starting pitchers for today and it'll be Chris Sale against Framber Valdez. Not sold on picking a side, but will drop some chips on the Over/Under total. The number is sitting at 9.5 runs, and since both pitchers have been UGLY, we gotta go OVER. Sale has given up SIX earned runs in just 3 2/3 innings so far in the playoffs, while Valdez has been ripped for SIX earned in seven innings in his two postseason starts. Go HIGH!
------------------------------------------------------------------