Ecks & Bacon....Feel The Sizzle!!!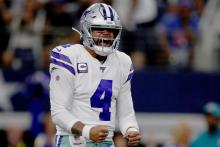 Thursday, December 5, 2019
Las Vegas - "In my opinion, Jason Garrett will be coaching in the NFL next year." That's a quote from Jerry Jones, and while it's not exactly a lump of coal in the Christmas stocking, Double J DIDN'T say he would be coaching the Cowboys. So the question is, has Garrett lost the locker room? Dak Prescott says, "I talk to each and every one of these individuals and the head coach's message is the way we're approaching each and every day. It's about taking one game at a time and being accountable." Hmmmmmm. Wouldn't really call that a ringing endorsement. So, on the field, Dallas rumbles in with a perfect hat trick on the road, covering the last three. And if you think Mitchell Trubisky has figured it out with three wins in the last four outings, UH UH. Those Ws came against the NYG and Detroit twice. What about Chicago's fearsome defense? Yea, they ain't giving up a bunch of points, but they have not faced any QBs that have Dak's level of talent (sorry Carson Wentz). If you're a trend player, you probably already know that Da Bears have covered only one of the last eight, so we're going Cowboy Up, but it's just a tickle.
----------------------------------------------------