Ecks & Bacon....Feel The Sizzle!!!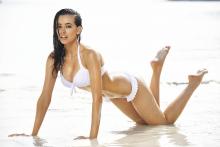 Wednesday, March 29, 2017
This is my yoga teacher...
The pose is called 'down dog'
And you don't EVER wanna see me doing it...
YUGE day for my adopted hometown with the Raiders coming to VEGAS!!! Of course, every business man and entrepreneur will be looking for an angle, and it looks like Dennis Hof has thrown the first pitch. If you're not familiar with Hof, he owns, among others, the Love Ranch South brothel in Pahrump, where Lamar Odom had a party that didn't end well. He also owns the Moonlite Bunny Ranch which has been featured on the HBO series "Cathouse." Of course, I have NEVER seen it. With the Silver & Black coming to Vegas, Hof has plans, BOY does he have plans. His words, "I've had a license for a seventh brothel near Las Vegas for some time now, but I was waiting for the right time to launch another house of debauchery," Hof said in a press release. "The Raiders coming to Vegas will mean big business for me, so my next sex den will honor the the Men in Black and their Raider Nation. My seventh sex palace will be called the 'Pirate's Booty Sports Brothel' and it will be the first brothel entirely dedicated to athletes and their die hard fans." Oh, and I'm sure this will next sentence will thrill Roger Goodell. Hof said, "All Raiders players and staff will receive a 50% discount on sex parties at the Love Ranch Vegas." Do not have the exact opening date, but you KNOW that I will be there to cover it for my people of the Ecks & Bacon nation.
Another day another dollar, and, ANOTHER winning week here at E & B. A small add to the bank at +$85 for the week. The key word, or, actually symbol, being a plus. And the grind continues.
----------------------------------------------------
*College Basketball*
----------------------------------------------------
*Favorite* *Points* *O/U* *Underdog*
----------------------------------------------------
*Saturday*
----------------------------------------------------
*NCAA Tournament*
*Final Four*
*Glendale, AZ*
----------------------------------------------------
Gonzaga * 6.5 (138.5) * S Carolina*
----------------------------------------------------
Money Line: Gonzaga -$280 vs. South Carolina +$240*
----------------------------------------------------
*Double Result*
----------------------------------------------------
Gonzaga leads at halftime & wins 1/2*
South Carolina leads at halftime & wins 4/1*
Gonzaga leads at halftime & South Carolina wins 8/1*
South Carolina leads at halftime & Gonzaga wins 5/1*
Tied at halftime & Gonzaga wins 18/1*
Tied at halftime & South Carolina wins 30/1*
----------------------------------------------------
*Winning Margin Proposition*
----------------------------------------------------
Gonzaga * Winning Margin *South Carolina*
----------------------------------------------------
10/1 * 1-2 points * 12/1*
4/1 * 3-6 points * 8/1*
6/1 * 7-9 points * 15/1*
5/1 * 10-13 points * 18/1*
10/1 * 14-16 points * 30/1*
10/1 * 17-20 points * 35/1*
8/1 * 21 or more points * 50/1*
----------------------------------------------------
*Saturday*
----------------------------------------------------
*NCAA Tournament*
*Final Four*
*Glendale, AZ*
----------------------------------------------------
N Carolina * 4.5 (151.5) * Oregon*
----------------------------------------------------
Money Line: North Carolina -$200 vs. Oregon +$170*
----------------------------------------------------
*Double Result*
----------------------------------------------------
North Carolina leads at halftime & wins 4/5*
Oregon leads at halftime & wins 3/1*
North Carolina leads at halftime & Oregon wins 7/1*
Oregon leads at halftime & North Carolina wins 5/1*
Tied at halftime & North Carolina wins 20/1*
Tied at halftime & Oregon wins 25/1*
----------------------------------------------------
*Winning Margin Proposition*
----------------------------------------------------
North Carolina * Winning Margin * Oregon*
----------------------------------------------------
10/1 * 1-2 points * 10/1*
5/1 * 3-6 points * 6/1*
7/1 * 7-9 points * 12/1*
6/1 * 10-13 points * 15/1*
12/1 * 14-16 points * 25/1*
12/1 * 17-20 points * 25/1*
8/1 * 21 or more points * 30/1*
----------------------------------------------------
*Odds to win the NCAA Tournament*
----------------------------------------------------
Team * Odds*
----------------------------------------------------
North Carolina * 7/5*
Gonzaga * 3/2*
Oregon * 4/1*
South Carolina * 8/1*
----------------------------------------------------