Ecks & Bacon....Feel The Sizzle!!!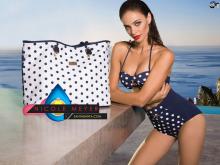 Did I mention how much I LOVED polka dots???
WoW! What a response. If I stayed in NYC for two months, could not get to all the Italian joints that you all were kind enough to recommend. Got love from the Bronx to Staten Island, Queens to Long Island, but nada from Brooklyn. What's up CROOKLYN?
Gotta throw this golf story at you, which sounds almost to INSANE to be true. There's a guy over in England, Jordan Baker, that claims to have placed a two pound bet, which is like $2.50 over here, on the four major winners. If he hits all four, his pay back is like over TWO AND A HALF MILLION! Guess who he had in the Masters? Yup, Sergio Garcia. Guess who he had in the U.S. Open? Yup, Brooks Koepka. Two down, two to go. He has Rickie Fowler in the British Open, and Justin Thomas in the PGA. He posted a screenshot of the ticket on his twitter, and it looks like he made the wager at Bet365. It looks real, but gonna do some checking and see if it's kosher. Seems like a nice enough guy. Told Golf Digest that he would "buy my mum a house, take dad on a golfing trip around the UK, buy myself a nice Ferrari and then take all the lads on holiday to Vegas." Yo, J. Baker, if you win, and come to Vegas, I WANNA be one of the lads!