Ecks & Bacon....Feel The Sizzle!!!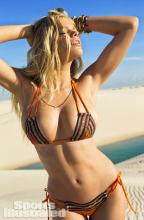 YUGE thank you to Sports Illustrated!!!
A 6-5 pitcher with a 5.54 ERA usually doesn't jump on to my radar screen, but Trevor Bauer is starting to heat up. After a lousy start, losing two of his first six, Bauer has won four of his last five decisions. And he enjoys a 3-0 perfecto against the Twinkies this season. On the other side of the field, Minny rookie Adalberto Mejia is starting to sink like a rock in a barrel of feathers. He has only one W in nine outings, and his last two starts have been batting practice for the Mariners and Indians. He was rocked for 14 hits and 10 earned runs in only 8 innings of work. That translates to an 11.25 ERA, and that also translates to an easy win for Cleveland. Gimme half a Benjamin on the Tribe.