Ecks & Bacon....Feel The Sizzle!!!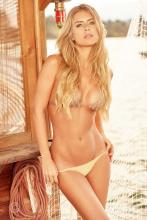 Saturday, October 21, 2017
Say hello to Maria!!!
Gonna go deep into the heart of Texas, and grab the Longhorns +7 points over Oklahoma State. What is Oklahoma State known for? Head coach Mike Gundy's luxurious MULLET. What is Oklahoma State NOT known for? DEFENSE. The Cowboys have played two teams this season with winning records, TCU and Texas Tech. They gave up 44 points to the Horned Frogs, and 34 points to the Red Raiders. And last season, OSU gave up 31 points to a lousy Texas team (5-7) IN Stillwater. The Longhorns sit at 3-3 under first year coach Tom Herman, but they are PHENOMENAL against the spread, covering five of six (83%). After a tough loss to Oklahoma last week (29-24), look for the 'Horns to bounce back and rock the party in Austin.
You can also throw the Longhorns into a three team 10 point teaser. Make Texas +17, then take Syracuse and bump the Orange up from +17 to +27 points against Miami-Florida. Close it out with USC, and take the Trojans from +3.5 to +13.5 points against Notre Dame.