Ecks & Bacon....Feel The Sizzle!!!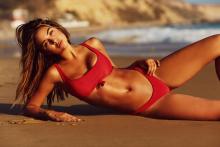 Nadia wishes me nothing but winners!!!!
Looking at the big boys, gonna try the Chiefs +3.5 points over the Patriots. New England's back baby. Yea, right. Beating the snot out of the Dolphins, 38-7, and posting a 38-24 win against the Colts doesn't really impress me. Yea, Tom Terrific has some new toys, specifically WR Josh Gordon, but our old friend Andy Reid has Kansas City on quite a tear. The Chiefs are already 5-0 and QB Patrick Mahomes is making opposing defenses dizzy. No doubt that the evil master Bill Belichick will devise something special for the rookie, but you also know that Andy will have a few wrinkles of his own. And not just in his pants. Andy has also been brilliant in the underdog role the last few years, with Kaycee covering eight of the last 10, and at 80%, my wallet will be at attention. For those who think New England never loses at home, lemme remind you of week one last season when the Chiefs ripped the Patriots, 42-27, WITHOUT Mr. Mahomes. One thing left to say. Yup, this is my BEST BET BABY!!!
And of course, a little three team 10-point teaser. Take the Vikings from -10 to pick'em against the Cards. Drop the Texans from -10 to pick'em against the Bills, and close out on Monday night with Green Bay and drop the Packers from -9.5 to +.5 point over the 49ers.