Ecks & Bacon....Feel The Sizzle!!!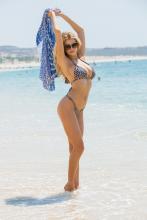 Wednesday, December 13, 2017
Morning stretch on the beach with Charlotte...
A bunch of sportsbooks here in Vegas doubled the Packers/Panthers line yesterday to Carolina -6, then dropped it back down this morning to -3. Hmmmmmmmmmmmmm.
Just heard that MGM Resorts sportsbooks will NOT be taking bets on the Las Vegas Aces WNBA team. REALLY??? I've dropped a few pennies on the WNBA, and would expect a change of heart from this official statement, "MGM Resorts Race & Sportsbooks will offer wagering on all WNBA games with the exception of the Las Vegas team." Punks.
Gonna drop a little college hoop love on Western Kentucky +9 points against Wisconsin.
Maybe less is more. Had only two plays last week, both winners, and it was a +$100 for the bank account. And the grind continues.