Ecks & Bacon....Feel The Sizzle!!!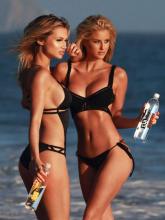 Still rocking the 138 water with Emma and her pal...
Crazy Sunday baseball card with all the no-name pitchers filling in for injured starters. However, we have circled a game that could be money. Check out the Phillies with Nick Pivetta over the Mets. Pivetta has been really strong the last three times out, allowing only 3 earned runs over 18 innings for a gorgeous 1.50 ERA. Not so gorgeous is New York starter Jason Vargas who has NOT won a game since May 30. Actually, Vargas has started 13 games for the Mets and managed ONLY 2 wins. And, oh, by the way, or BTW as the kids would say, his ERA looks like a floating blimp at 8.10. Gonna ring the Liberty Bell once again. And PLZ, check me out during the day on that newfangled thing called Instagram. Just punch in America's Line, and you'll find me out in Vegas.