Ecks & Bacon....Feel The Sizzle!!!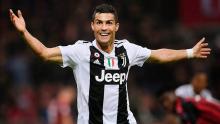 Las Vegas - Gotta fly back to England and take a stand in the Manchester City vs. Real Madrid match in the second leg of the round of 16 in the UEFA Champions League. City won the first leg 2-1 AT Madrid, and all they need is a draw to advance. So, we would expect the Citizens to play VERY conservative. Madrid has been on FIRE since the restart, winning 10 straight games before ending the season with a 2-2 draw at Leganes. We were thinking about throwing some cash at Real, but then we remembered that the HEART & SOUL & CAPTAIN of the team, Sergio Ramos, will NOT play due to a red card in the first game at Madrid. Gonna stay light, and take the draw for half a Benjamin after 90 minutes at a delicious +$330.
----------------------------------------------------
Off to Turin, where it's Juventus vs. Lyon in the second leg. Les Gones or The Kids, scratched out a 1-0 victory in France but Juve is ready to reverse that result and then some. The Old Lady, actually no one is old, or, a Lady, but Juventus has been playing since 1897, and THAT'S OLD! But they do have arguably the GREATEST goal scorer in the world, #7, Cristiano Ronaldo. Juve should get forward Paulo Dybala back, and he was ONLY voted Serie A's Most Valuable Player for the 2019-20 season. In Lyon's 1-0 win back in February, the only goal was scored by Lucas Tousart. He now plays for Hertha Berlin in the German Bundesliga. UH OH. Gimme The Old Lady to get out the STILETTO'S and stomp The Kids from Lyon.
----------------------------------------------------
On the baseball board, got a play on the Padres with Zach Davies over the D'backs and Luke Weaver. Talk to us Eck. This is basically a play AGAINST Arizona's Luke Weaver. It's a small sample, but his first two starts have been UGLIFIED! He is 0-2, and has been RIPPED for 14 hits and 12 earned runs in just 7 innings. Got out the old abacus and figured out that his ERA is 15.83. That's FIFTEEN point EIGHTY THREE. And that's why I'm all in on the Padres.
----------------------------------------------------
On the ice, gotta believe that the Penguins are gonna come out spitting fire as they replace Matt Murray with Tristan Jerry in a win-or-go-golfing game. Sounds much better than do-or-die right? Murray has lost eight of his last nine postseason starts, so putting Jarry between the pipes makes sense. Now Sid The Kid, Geno Malkin and the rest of the Black & Gold need to STEP UP!
----------------------------------------------------