Ecks & Bacon....Feel The Sizzle!!!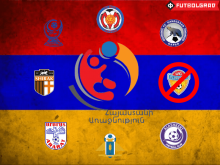 Las Vegas - You know that we've been studying day & night to bring you some winners in European soccer, and just might have another W for you. Taking a look at the Armenian Premier League match between FC Ararat and FC Urartu, formerly FC Banants. Naturally, we had to dig REALLY deep to research this game and this league, but that's why I'm here.
Five of the 10 teams are based in the capitol of Armenia, Yerevan, or Erevan to some. Tell me more Suri. Yerevan is the largest Armenian city but also among the oldest continuously inhabited cities in the world. How old? How about 782 BC! And if you're not familiar with any Armenians, let me give you Cher, Kim
and all the rest of the Kardashians, and my old friend who is looking down from his skybox, Hall of Fame hoop coach from the Runnin' Rebels here in Vegas, Jerry Tarkanian.
FC Ararat is sitting in 6th place in the standings (28 points), with an 8-5 record and 4 draws. Sadly, they play in front of only 14,428 fans at the Vazgen Sargsyan Republican Stadium. This crew is known as the White Eagles. They have scored 24 goals, allowed only 18 for a solid +6 goal differential. FC Uratu (23 points), which I'll explain in a minute, have won 6, lost 6 with 5 draws. Their nickname is the Proud Eagles, and this crew has tickled the net 22 times, allowed 23 for a -1 goal differential. Both teams are based in Yerevan, so you could call this the Yerevan Derby. Both teams have Eagles in the nickname, so if you're calling in a wager, make sure you specify, White or Proud. Adding to the confusion, there is another Ararat team, Ararat-Armenia, so make sure you specify which Ararat. My head is spinning with too many Eagles and too many Ararats, so lets just forget about opening the wallet.
But if you are interested in spending a few bucks, the Pyunik Yerevan team has a phenomenal logo, and 75,000 Armenian Drams will get you a sweet jersey. Don't get nervous because 75,000 Drams translates to just $72 bucks and change here in the USA.
----------------------------------------------------