Cubs and Red Sox World Series Betting Chalk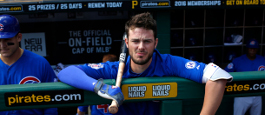 With opening day just over three weeks away the defending World Series champion Chicago Cubs are co-favorites to win the 2017 World Series with the improved Boston Red Sox.
Both sides are listed at +450 on the World Series odds at the Bovada sportsbook. The Cubs finally ended their long World Series title drought last season and return with most of last year's squad intact. With the nucleus of young talent, including Kris Bryant, Anthony Rizzo, Kyle Schwarber and Addison Russell, the Cubs should be contenders for years.
The Cubs did lose Dexter Fowler and Aroldis Chapman, but the addition of Wade Davis and a rebound year from Jason Heyward could negate those losses.
The Red Sox made a huge splash in the offseason by acquiring dominant southpaw Chris Sale. He'll form a killer top of the rotation with reigning Cy Young winner Rick Porcello and David Price. Boston will be without David Ortiz for the first time in 15 years after his retirement, but their offense should still be in fine form behind Mookie Betts, Xander Bogaerts, Hanley Ramirez and Dustin Pedroia.
Following the Cubs and Red Sox on the odds list are last year's World Series losers, the Cleveland Indians at +800. Cleveland was one win away from a World Series title last season, and remain all-in after poaching slugger Edwin Encarnacion from the Toronto Blue Jays. The Indians pitching remains their strength with Corey Kluber, Carlos Carrasco and Danny Salazar in the rotation and unhittable Andrew Miller in the bullpen.
Three National League teams are next in line with the Los Angeles Dodgers at +1000, and the Washington Nationals and San Francisco Giants both at +1200.
The Dodgers have two of the best in the game in Clayton Kershaw and Corey Seager, but the rest of their rotation could be hit or miss with two reclamation projects, Scott Kazmir and Rich Hill, and young gun Julio Urias. Another big question mark is Yasiel Puig, who looked like his days in Los Angeles were numbered at times last season.
The Nationals have a strong one-two punch atop their rotation in Cy Young winner Max Scherzer and flamethrower Stephen Strasburg. Adam Eaton and Matt Wieters join Bryce Harper, Trea Turner and Anthony Rendon, so Washington should have little trouble with the bats this season.
It's an odd-numbered year, so betting on the Giants may not be in your best interest despite their solid trio of Madison Bumgarner, Johnny Cueto and Jeff Samardzija.
The best value right now might be the Houston Astros at +1400. Houston added veterans Carlos Beltran, Brian McCann and Josh Reddick to bolster their young nucleus of Jose Altuve, Carlos Correa, George Springer and Alex Bregman.