NBA Betting: Wizards Highlight Thursday Slate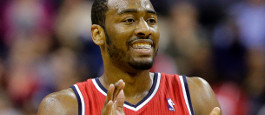 It's a light night in the NBA on Thursday with only two games on the schedule, starting with the red-hot Washington Wizards at the Indiana Pacers.
Washington took down the Oklahoma City Thunder 120-95 as a 5.5-point favorite on Monday night to post their third straight win. That win also improved them to 10-1 straight up and 7-4 against the spread in their last 11 games. The Wizards have also been strong on the road lately, having won their last four and posting a 5-1 ATS mark in their last six.
Indiana will be playing their second game of a back-to-back with a date with the Cleveland Cavaliers on Wednesday. They also played on Monday when they fell to the San Antonio Spurs 110-106 as a 5-point underdog at the Bovada sportsbook. That was their fourth straight loss, during which they are 2-2 ATS. In 11 back-to-backs this season the Pacers are 3-8 SU and 2-9 ATS in the second game.
On the season Washington is 2-1 SU and ATS versus the Pacers. However, in their last seven trips to Indiana the Wizards are 7-0 ATS. The last 10 matchups between the two have been strong OVER plays for total bettors, at 9-1 OVER.
The other game on tap Thursday night is the Boston Celtics at Chicago Bulls.
The Celtics are in action Wednesday night versus the Philadelphia 76ers. On Monday, they posted a 111-98 win over the Dallas Mavericks as 2-point favorites. That was their third straight win SU and ATS and they're 10-1 SU and 6-5 ATS in their last 11. In the back-end of a back-to-back this season the Celtics have been rock solid at 9-3 SU and 8-4 ATS in 12 games.
Chicago last time out recorded a 105-94 upset win over the Toronto Raptors as a 4-point underdog at Bovada. That snapped a three-game losing streak SU and ATS for the Bulls. At home the Bulls have won their last two games SU and ATS, but they're only 2-4 ATS in their last six.
So far the Bulls and Celtics have split the season series with a win apiece. The home team and favorite won both contests. Chicago has a slight lead over Boston in their last 10 matchups at 6-4 SU and 5-5 ATS, but they've ruled at home. In their last 13 home games against the Celtics the Bulls are 11-2 SU and 10-3 ATS.