Super Bowl Picks from Ben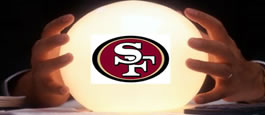 Matchups, matchups, matchups. That's what the wise guys and sharps here in Vegas always talk about, and your very own wiseguy, the Eckman, has found a matchup that WILL be the key to unlocking a Super Bowl winner.
Speaking of winners, just hope you have been riding my best bet money train for a while.
Last week, we had another bestie winner, maybe the easiest of the extended run, as the Ravens bounced into Super Sunday with a 28-13 victory
as a 7.5 point underdog.
ADVERTISEMENT: Get a huge 50% free bet bonus and more Super Bowl props than any book on the planet - visit Bovada before kickoff!
With that W, the best bet tally jumped to 10-2. If that ain't enough to
make you read on, then proceed at your own risk and try to pick the winner...if you dare.
The matchup that we are gonna key on is the dual-threat quarterback. Here's the research. In a game at the Linc on September 26, a healthy Michael Vick was good for 371 passing yards as the Eagles squeezed past the Ravens,
24-23.
Vick had just 34 yards on the ground, but the constant threat of him taking off scared the bejesus out of Baltimore. The Eagles outgained the Ravens 486-325 yards, killed in first downs, 26-17, and won the time of possession battle, 34:21 to 25:39. Visit Bovada before kickoff!
In the only other matchup with that kinda QB, it was a 31-28 loss for Baltimore at Washington with RG III leading the charge. The III completed 15 of 26 passes for 246 yards and rushed for, kinda strange, 34 yards, just
like Vick, before getting knocked out in the 4th quarter.
The Redskins also outgained the Ravens 420-359 yards,
won the battle of first downs 22-18 and led the time of possession, 34:01 to 29:22.
What's the takeaway? Baltimore has TROUBLE with QBs that have happy feet!
These teams did not meet in 2012, but back in 2011, the Ravens, at home, with the key being HOME, beat San Francisco, 16-6. But that was with Alex Smith at QB, NOT Colin Kaepernick.
Speaking of Kaepernick, did you see those fastballs he was throwing around the field against Atlanta, INSIDE a DOME by the way. The kid has a HUGE
arm. He had NINETY TWO mile per hour mustard back in high school. I do not have any tatoos, or much of a bicep, but when Colin throws that first TD, I will be KAEPERNICKING at some hotel on the Strip. Visit Bovada before kickoff!
He can crush you with his legs, as he did to the Packers when he ran WILD for 181 yards, or pick you apart with his arm, as he did to the Falcons (16 of 21 for 233 yards).
Here are your spread stats. The 49ers finished the season at 10-7-1. They were 5-3 on the road and 8-6-1 as a favorite. The Ravens finished the season with a 9-9-1 spread log. They were 5-4-1 on the road and 4-4 as a dog.
Before you put the paper down, a quick visit to PROP CITY baby! When we first came to Vegas, back in the mid-80's, there were only a handful of prop bets.
Now, you can find some places that offer over 500 props, and you
get kinda dizzy. However, as always, Vic has done his homework, and here's what I like.
Lets get the silly out of the way. You have to lay a ton, but there's a prop on whether both Harbaugh brothers will wear hats at the Super Bowl. If you want yes, which I do, you have to put up $900 to win back $100.
That's as close to a LOCK as you will ever find, but very expensive.
Looking for the first OT game EVER, I'll put up $100 to win back $800. Also like Randy Moss, he is after all, the BEST WR ever, in HIS mind, to score the first TD, and that will be another hundy to win back $2500.
Now the final prop, and my largest wager, which would make this, my BEST BET BABY! Which team will make the longest FG? I'm taking the Ravens at -$140, and here's why.
Justin Tucker is the leg, from the right side, for the Ravens, and he has been simply AMAZING in his rookie year. Tucker hit on 30 of 33 FGs. He was 8-8 from 20/29 yards, 8-8 from 30/39 yards, 10-13 from 40/49 yards, and probably the MOST impressive stat, 4-4 from 50+ yards (which included a 56 yard bomb).
The opposing leg, a left leg, belongs to the Niners David Akers, and he has been lousy. Akers hit only 29 of 42 overall, and was awful from distance. He was just 7-13 from 40/49 yards and 2-6 from 50+ yards.
He even had to have a kicking competition with Billy Cundiff when the
playoffs started. Cundiff was eventually released, but jeez, the old Eagle Akers seems to have lost his mojo. Put me down for $420 to win back $300.
Final score: 49ers 28-21.
Wish you were in Vegas to watch with me!