Texans Hit New England Monday Night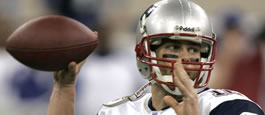 Monday Night Football finally lives up to its billing as home of the "big game" of the week as the 9-3 New England Patriots host the 11-1 Houston Texans (8:30 pm ET, ESPN).
As of Monday morning most NFL betting outlets were chalking the Patriots at -5.5 for this possible AFC playoff preview, with an OVER/UNDER of 52.
Houston started this season 5-0, with wins at Denver and at the Jets. The Texans then suffered their first, and so far only, loss of this season, a 42-24 drubbing at the hands of the Green Bay Packers. But Houston picked itself up and has won its last six games in a row, knocking off, among others, Baltimore, Chicago and Detroit.
BOVADA Sportsbook Special - $250 FREE BET - Click Here to Visit Now!
Last week the Texans won at Tennessee 24-10.
New England started this season 3-3, with a win over Denver but losses to three birds, the Ravens, Cardinals and Seahawks. But like Houston, the Patriots have also won their last six games in a row, although they haven't exactly been playing the toughest of competition, beating the Jets twice, along with the Rams, Bills and, last week, the Dolphins 23-16.
Statistically speaking Houston ranks fifth in the league in offense at 390 YPG, sixth in rushing at 143 YPG, sixth in defense at 323 YPG and second vs. the run, allowing just 89 YPG on the ground.
New England, meanwhile, leads the league in offense at 426 YPG and ranks eighth in rushing at 141 YPG. But the Patriots also rank just 27th in defense, allowing 381 YPG, although eighth vs. the run at 101 YPG.
The injury lists for both these teams going into this game are long, and include names like Rob Gronkowski, Julian Edelman, Wes Welker, Johnathan Joseph, Brooks Reed and Bradie James. Bettors might want to consult an updated injury report before getting down on this game.
Weather could play a factor for this game. The forecast for Monday night in Foxboro calls for a good chance of precipitation, temps in the 40s and breezy.
Looking ahead to some of Week 15's action the 9-4 Packers visit the 8-5 Bears Sunday; the 11-1 Falcons were early one-point favorites at home over the 8-5 Giants; the 6-6-1 Rams were early three-point favorites at home over the 7-6 Vikings; the 10-3 Broncos were early three-point favorites at the 9-4 Ravens; the Texans host the 9-4 Colts; the 7-6 Cowboys and 7-6 Steelers were a pick 'em for their game in Arlington; and Sunday night the Patriots host the 9-3-1 Forty-Niners.