Ecks & Bacon....Feel The Sizzle!!!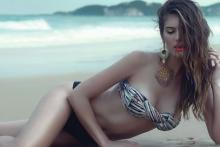 Saturday, September 23, 2017
Not sure if I'm more enthralled with the gigantic...earring, or, the lipstick...hmmmmm...
Looking out West for some college action and we'll rock California +17 points over USC. Justin Wilcox has just started his first year as the head coach at Berkeley and he is already 3-0 which is pretty strong considering that the Bears finished last season at 5-7. And the 3-0 mark was not against chopped liver. Well maybe one. Cal won its opener AT North Carolina, 35-30, beat Weber State at home, 33-20, then took down an SEC foe at home, Mississippi, 27-16. Totally get that SC is top ten material, and QB Sam Darnold will probably go #1 in the next NFL draft, but 17 is a bundle to lay on the road. Got a few more picks coming, so PLZ, hit me on Twitter @vegasvigorish.
On the bases, we got the Astros with Charlie Morton over the Angels...