Ecks & Bacon....Feel The Sizzle!!!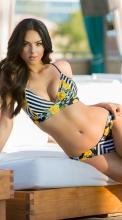 Don't know what they call 'em, but those wood joints right below the mattress are a thing of beauty...no nails, no screws...
Of course, the model sitting on the mattress AIN'T bad either...
So we have the NBA Playoffs starting to heat up, the Stanley Cup every night and the crazy start to the baseball season. Not enough? Okay, got it. With all that action on the betting boards, guess what has the top billing on ALL the sports websites? No, it AIN'T darts, cricket or rugby, but the NFL opening lines. Which is ONLY about FIVE MONTHS AWAY! C'MON! It's April and the NFL marketing machine has taken over once again. Of course, if you scroll down, we have week one opening lines for your viewing pleasure. No picks yet, although the Eagles at home -4 points over the Falcons looks tasty!
Back to the current world, and we're thinking about the Jazz -4 points over the Thunder, and on the ice, the Capitals over the Blue Jackets.
And if you're into the bases, we have our eye on the Cardinals with Martinez over the Reds...