Ecks & Bacon....Feel The Sizzle!!!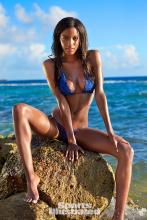 Saturday, January 20, 2018
Ebonee could be the SI rookie of the year...
She HAS my VOTE!!!
What a mess. Had a sweet deal ready to roll out for you from a New England perspective, but now that Tom Brady's right hand is an issue, we're probably gonna back off. Actually, when the news first broke on Wednesday, I LOADED up on the Jaguars and got a +9. It's now sitting at +7.5, and if it stays there, I'll buy the hook, push the line to 7, and buy back the Patriots, giving me a shot at the middle. However, if anyone tells you that they have "inside information" on Brady's injury, RUN! For sure there will be SCAMDICAPPERS that will be selling picks, claiming to know what kind of injury Brady has, how much his right hand has swelled, and how deep the cut is, assuming he did actually bleed. Please, please, PLZ DON'T buy into the scam.
Once we heard the Tommy Terrific banged his money-maker, we jumped on Jacksonville at +9 for a pretty big number. Of course, when we see Brady warming on Sunday, and he's throwing those gorgeous tight spirals, we just might wash the wager. If there was no 'hand' issue, we woulda been all over the Brady Bunch. We read this AMAZING article by our old friend Warren Sharp, that talked about how teams with a standard "11 personnel," which is 1 RB, 1 TE and 3 WRs, have only a 39% success rate against the Jaguars. Teams that use a "21 personnel," which is only 2 WRs or less, against Jax, have a 55% success rate. There's a whole lotta GEEK in the article, and I say with the utmost respect, so if you wanna read it, hit my Email, ben@americasline.com, and I'll send you the link.
Checked the last 10 years of spread stuff, and it turns out that the Pats have covered only two of the last seven AFC Championship games. And while he's not coaching, Tom Coughlin, when he was the head X & O master with the New York Giants, was the ONLY guy to beat Belichick in two Super Bowls. So maybe he has the plan that filters down to Jags coach Doug Marrone. However, we gotta wait, watch and listen to the hand before opening the wallet.
PLZ come back tomorrow when I'll drop the NFC Championship game on you.