Ecks & Bacon....Feel The Sizzle!!!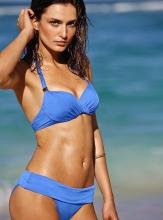 Just sent one of my best friends off to Bucharest, Romania to enjoy his golden years. And WHAT a PARTY it was. Have you ever had Tuica? Me either. But that's what they rock in Bucharest, and what we enjoyed on the way to the airport. Tuica is a fruit brandy containing about 50% alcohol by volume, made from fermented plums. That would be FIFTY PERCENT alcohol. What does it taste like? Think about moonshine with a dash of plums. My only advice if you're gonna sip some Tuica is, DON'T stand too close to a fire, and if someone is lighting your cigarette or cigar, make sure you have wiped your hands and lips on a towel. We say cheers, or, bottoms up. In Romania, it's NOROC! And by the way, anybody got ASPIRIN???
And if you're not sure how SPECTACULAR the women of Romania are, say hello to Andreea from Bucharest!!!
----------------------------------------------------
*College Basketball*
----------------------------------------------------
*Favorite* *Points* *O/U* *Underdog*
----------------------------------------------------
*Saturday*
----------------------------------------------------
*NCAA Tournament*
*Final Four*
*Glendale, AZ*
----------------------------------------------------
Gonzaga * 6.5 (138.5) * S Carolina*
----------------------------------------------------
Money Line: Gonzaga -$280 vs. South Carolina +$240*
----------------------------------------------------
*Double Result*
----------------------------------------------------
Gonzaga leads at halftime & wins 1/2*
South Carolina leads at halftime & wins 4/1*
Gonzaga leads at halftime & South Carolina wins 8/1*
South Carolina leads at halftime & Gonzaga wins 5/1*
Tied at halftime & Gonzaga wins 18/1*
Tied at halftime & South Carolina wins 30/1*
----------------------------------------------------
*Winning Margin Proposition*
----------------------------------------------------
Gonzaga * Winning Margin *South Carolina*
----------------------------------------------------
10/1 * 1-2 points * 12/1*
4/1 * 3-6 points * 8/1*
6/1 * 7-9 points * 15/1*
5/1 * 10-13 points * 18/1*
10/1 * 14-16 points * 30/1*
10/1 * 17-20 points * 35/1*
8/1 * 21 or more points * 50/1*
----------------------------------------------------
*Saturday*
----------------------------------------------------
*NCAA Tournament*
*Final Four*
*Glendale, AZ*
----------------------------------------------------
N Carolina * 4.5 (151.5) * Oregon*
----------------------------------------------------
Money Line: North Carolina -$200 vs. Oregon +$170*
----------------------------------------------------
*Double Result*
----------------------------------------------------
North Carolina leads at halftime & wins 4/5*
Oregon leads at halftime & wins 3/1*
North Carolina leads at halftime & Oregon wins 7/1*
Oregon leads at halftime & North Carolina wins 5/1*
Tied at halftime & North Carolina wins 20/1*
Tied at halftime & Oregon wins 25/1*
----------------------------------------------------
*Winning Margin Proposition*
----------------------------------------------------
North Carolina * Winning Margin * Oregon*
----------------------------------------------------
10/1 * 1-2 points * 10/1*
5/1 * 3-6 points * 6/1*
7/1 * 7-9 points * 12/1*
6/1 * 10-13 points * 15/1*
12/1 * 14-16 points * 25/1*
12/1 * 17-20 points * 25/1*
8/1 * 21 or more points * 30/1*
----------------------------------------------------