Ecks & Bacon....Feel The Sizzle!!!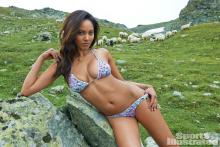 My title for this picture is, WHAT the FLOCK!!!
Thank you Ariel Meredith!!!
In case you have not noticed, the CFL has kicked off, and we're trying to find out if anyone cares. Got the Hamilton Tiger-Cats vs. the Toronto Argonauts this afternoon, and have absolutely NO opinion. If you're starting to get calls and mail from guys that say they have the CFL dialed in, HANG UP, and RIP IT UP! Of course, there might be one guy up in Yellowknife, capital of the Northwest Territories, that is hitting 75%, but until he calls me, all bets are off.
On the baseball board, thinking about the Dodgers with Brandon McCarthy over the Rocks.