Ecks & Bacon....Feel The Sizzle!!!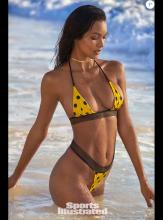 Don't know if I mentioned this yesterday, but you must ENLARGE this pic to get the full effect of Lais!!!
Weekend hoops look kinda crazy, with LeBron in an 0-2 hole, and the Warriors in a 1-1 knot with the Rockets. Can NOT see the King losing three straight games, but can NOT see the Cavaliers covering the phat -6.5 point spread. Also not thrilled about laying seven with Golden State on Sunday. So, what to do? How about a gorgeous two team 6-point teaser. Take the Cavs, and look for a -6, then drop 'em down to pick'em. Then swing out West, grab the Dubs, and drop 'em from -7 to -1 point over the Rocks. Winner, winner, chicken dinner.
Now we take a look at the ponies, the second jewel of the Triple Crown at Pimlico in Maryland. Ecks & Bacon is not the master of the horse universe, so I got a guy, in Jersey, Marty, and he's pretty good. Check his roll.
"Justify, the winner of the Kentucky Derby, is the favorite in the race. He is a monster of a horse, has Beyer Speed Ratings over 100 in all four wins, has tactical ability, and should trounce this field! However, there are some chinks in the armor. Justify had a foot problem that was a rash, that turned into a bruise, and
was said to be a quarter crack in his hoof. The trainer, Bob Baffert, said the horse is okay and the foot should be no problem. He will also be racing for the fifth time in 13 weeks, so maybe, just maybe, since not having a foundation as a two year old (he didn't race until this year), he might not be as strong. So, the pick here is Good Magic to upset Justify. And if you're into exotics, take Good Magic to win, with an exacta and trifecta box of Good Magic, Justify, and Quip."