Ecks & Bacon....Feel The Sizzle!!!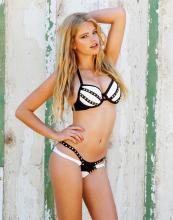 Here's my girl, V V D G, or Valerie Van Der Graf, and I'm asking you to help me read the secret hieroglyphics on her bikini...
Click to enlarge, and study well!!!
Tell me why no one is SCREAMING from every corner of the country about the Connecticut women's team that is now 111-0. Yea, FREAKIN' ONE HUNDRED ELEVEN AND OH! That's Joe DiMaggio's 56 game hitting streak. That's Wayne Gretzky's 215 points in one season. That's Edwin Moses winning 122 straight races. Jerry Rice's 274 consecutive games with at least one reception. Connie Mack's 50 consecutive seasons as manager of the old Philadelphia Athletics. Jahangir Khan's 555 consecutive wins in squash. And of course, the Harlem Globetrotters 2,495 straight wins over the Washington Generals. Believe I was sitting in the nosebleeds for #1,478 at MSG. Maybe even more impressive, another UConn streak that will NEVER be broken is not losing back-to-back games in 24 years, TWENTY FOUR FREAKIN' YEARS!!! The Huskies are 22 point favorites over Mississippi State in the Final Four tomorrow night, and while we're not sure about laying the 22, we ARE positive that 112-0 is just 40 minutes away. BRAVO to all the incredible women, past & present, and of course, to Geno A. for leading them into the history books!!!
----------------------------------------------------
*College Basketball*
----------------------------------------------------
*Favorite* *Points* *O/U* *Underdog*
----------------------------------------------------
*Saturday*
----------------------------------------------------
*NCAA Tournament*
*Final Four*
*Glendale, AZ*
----------------------------------------------------
Gonzaga * 6.5 (138.5) * S Carolina*
----------------------------------------------------
Money Line: Gonzaga -$280 vs. South Carolina +$240*
----------------------------------------------------
*Double Result*
----------------------------------------------------
Gonzaga leads at halftime & wins 1/2*
South Carolina leads at halftime & wins 4/1*
Gonzaga leads at halftime & South Carolina wins 8/1*
South Carolina leads at halftime & Gonzaga wins 5/1*
Tied at halftime & Gonzaga wins 18/1*
Tied at halftime & South Carolina wins 30/1*
----------------------------------------------------
*Winning Margin Proposition*
----------------------------------------------------
Gonzaga * Winning Margin *South Carolina*
----------------------------------------------------
10/1 * 1-2 points * 12/1*
4/1 * 3-6 points * 8/1*
6/1 * 7-9 points * 15/1*
5/1 * 10-13 points * 18/1*
10/1 * 14-16 points * 30/1*
10/1 * 17-20 points * 35/1*
8/1 * 21 or more points * 50/1*
----------------------------------------------------
*Saturday*
----------------------------------------------------
*NCAA Tournament*
*Final Four*
*Glendale, AZ*
----------------------------------------------------
N Carolina * 4.5 (151.5) * Oregon*
----------------------------------------------------
Money Line: North Carolina -$200 vs. Oregon +$170*
----------------------------------------------------
*Double Result*
----------------------------------------------------
North Carolina leads at halftime & wins 4/5*
Oregon leads at halftime & wins 3/1*
North Carolina leads at halftime & Oregon wins 7/1*
Oregon leads at halftime & North Carolina wins 5/1*
Tied at halftime & North Carolina wins 20/1*
Tied at halftime & Oregon wins 25/1*
----------------------------------------------------
*Winning Margin Proposition*
----------------------------------------------------
North Carolina * Winning Margin * Oregon*
----------------------------------------------------
10/1 * 1-2 points * 10/1*
5/1 * 3-6 points * 6/1*
7/1 * 7-9 points * 12/1*
6/1 * 10-13 points * 15/1*
12/1 * 14-16 points * 25/1*
12/1 * 17-20 points * 25/1*
8/1 * 21 or more points * 30/1*
----------------------------------------------------
*Odds to win the NCAA Tournament*
----------------------------------------------------
Team * Odds*
----------------------------------------------------
North Carolina * 7/5*
Gonzaga * 3/2*
Oregon * 4/1*
South Carolina * 8/1*
----------------------------------------------------