ariz vs. asu
Thursday, January 21, 2021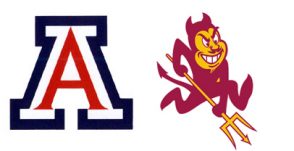 Las Vegas - Arizona basketball put out this statement: "The University of Arizona is self-imposing a one-year postseason ban on the UA men's basketball program as a proactive measure in its ongoing NCAA enforcement process."
If you're wondering why, and have not been following, just Google, FBI investigation into college hoops corruption and bribery scandal.
One year ban, no March Madness, so what's left? To run through the Pac 12 schedule like a buzz saw. After a little hiccup against USC and UCLA, the Wildcats got back on the winning train, blowing away Oregon State, 98-64. Sure, the Beavers are sitting near the bottom of the Pac 12, but still, a THIRTY FOUR point W is impressive.
In Tempe, Bobby Hurley has been solid the last five years for the Sun Devils, posting an 93-69 record, but this season (4-6) has been problematic. The Devils have lost four in a row straight up, and are working on an UGLY 0-6 NEGATIVE spread perfecto.
Not fond of what happened at Arizona, and certainly DO NOT condone any of it, but sifting through the noise, and just looking at the game tonight, gotta roll with the 'Cats for the money.
----------------------------------------------------