baker 327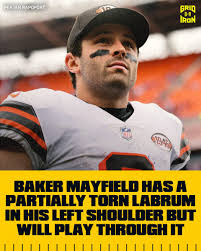 Las Vegas - Gonna rock the Chargers -2 points over the Browns. This is what we read from an A.P. story, word for word.
BEREA, Ohio -- Cleveland Browns quarterback Baker Mayfield has been playing with a partially torn labrum in his left shoulder. Mayfield suffered the injury to the non-throwing shoulder on September 19 while trying to make a tackle against the Houston Texans, and has been wearing a shoulder harness since.
So, no matter what the Baker says and how he tries to minimize the injury, it's a problem, a YUGE problem. Last week was one of his weakest games in quite a while. He hit on only 15 of 33 passes for 155 yards in Cleveland's 14-7 win against the Vikings. And with Joey Bosa leading a very stingy San Diego defense, oops, L.A., it will not be easy for Mayfield. The Chargers have allowed only 18.5 points per game, and those numbers have come against the Cowboys, Chiefs and Raiders, three high octane offenses. The Browns have been dominant on D as well, with Myles Garrett collecting six sacks. They have allowed just 66.5 rushing yards per game and only 16 ppg. Sure those are eye popping, but hold on, lets look at who was on the other side of the field. We're talking Texans (#30), Vikings (#15) and Bears (#32), three of most offensively-challenged teams in the NFL. Lightning strikes again, and we gotta have the Bolts for the money!
We have a challenge to the Other Silver Brother who has slipped to 2-2 with his three team 10-point teasers. It's long time friend of Ecks & Bacon, the Secret Santa. Of course it's a little early to be talking Christmas, but when you throw out winners, who cares. So, Secret is gonna start with Tennessee and take the Titans from -4 to +6 points against Jacksonville. Then drop Tampa Bay from -10 to a pick'em against the Dolphins. Then close it out with Cleveland and bump the Browns up from +2 to +12 points against the Chargers.
Now we have the OSB's three teamer. Silver is taking TB12 and the Bucs down from -11 to -1 point over the Dolphins. Then Dallas from -7 to +3 points against the Giants. And when it gets dark, he goes Buffalo, and bumps the Bills up from +3 to +13 points against the Chiefs.
So, who you backing, Silver or Santa???
------------------------------------------------------------------