Ecks & Bacon....Feel The Sizzle!!!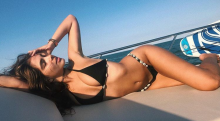 Thursday, September 20, 2018
Sailing!!!
Which Temple team do we get tonight? The Owls that looked ugly in the first two home losses to Nova (19-17) and Buffalo (36-29)? Or, the high flyers that went down to College Park and STUNNED Maryland as a +15.5 point dog with a LOUD 35-14 W? Man, why do they wanna make my job so tough? So, I'm banking on last week's version.
Expecting QB Anthony Russo to manage the game, while RB Ryquell Armstrong gobbles up another 100+ yards. And the WICKED defense that held the Terps to ONLY 63 yards through the air and 132 on the ground, should be ready to turn the Golden Hurricane into a mild summer sunshower.
On the NFL board, light lean to the Brownies -3 points over the Jets. Why? Hue Jackson might have 1-32-1 straight up record, but the guy is PERFECT against the spread. Sure, it's a small sample, but 2-0 is 2-0 baby!