Ecks & Bacon....Feel The Sizzle!!!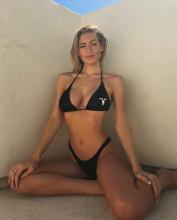 Friday, November 16, 2018
Can anybody help me with this logo???
My first look was the Texas Longhorns, but nah...
Then maybe Rafa Nadal's logo for his clothing line...
Yell...
Back to the FIFTY point spread in the Alabama/Citadel game. Did you know that since 1995, favorites of 50 points or more have a spotless 56-0 record against their opponents. Anyone wanna take a guess about the results against the spread? Okay, gotcha covered. Favorites, NOT so good, with a 23-33 record in those 56 outings. So, whose on the Citadel PLUS 51?