Ecks & Bacon....Feel The Sizzle!!!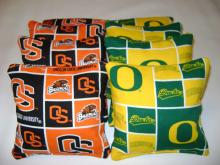 Las Vegas - Gonna try the Turtles over the Nittany Lions, or Maryland over Penn State. The Terps close out the regular season at home looking for revenge, and, a ticket to the BIG DANCE. They lost at Penn State back in February, 55-50, but that was after a big win against Purdue and with Ohio State on deck. So, State was a sandwich game and Maryland came up short. After winning five in a row, the Terps just lost at Northwestern, 60-55. But we're gonna give 'em a pass because they were coming off a fabulous W against Michigan State. TOO much TURTLE!
Then we swing out West and grab Oregon State over Oregon in this nasty intrastate rivalry. The visiting Ducks are the better team, but the Beavers have been money, GOBS OF MONEY, the last few weeks, posting a gorgeous SEVEN & OH spread run. They also beat the Ducks back in January, AT Eugene, 75-64 as a +9 point dog. We'll take the +5 and you can BOOK IT!
----------------------------------------------------