Ecks & Bacon....Feel The Sizzle!!!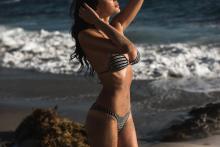 One of the hotels in Vegas has the catchphrase, "just the right amount of wrong."
Well, in this pic, it's the RIGHT amount of sand, and the RIGHT amount of waves...
You all are probably too young to remember the old show "Dragnet." Jack Webb played Sgt. Joe Friday, and his go to line was, 'just the facts, Ma'am.' Before we get to the facts, if you wanna see something HILARIOUS, hit YouTube and type Jack Webb/Johnny Carson, and click on the 'Classic, Copper, Clapper, Caper.' Back to the facts. The Pacers stunned the Cavaliers in game one at Cleveland, 98-80. Then the Cavs squeezed out a 100-97 win in game two with an UNREAL effort and 46 points from King James. Now the series moves back to Indianapolis where the Pacers have won 16 of the last 20. Could be wrong, and it happens occasionally, but Indy looks more athletic, faster and hungrier than the Cavs. And if you think LeBron is gonna gobble up 46 again, I'll take the UNDER. Gotta lay just one point, but right here, right now, calling it a double digit W for the Pacers.
Not quite sure why the Bucks are -5 over the Celtics after dropping the first two games, and while we lean toward Giannis and his crew, not prepared to lay that kinda number...well, maybe just a tiny taste...
And there's NO doubt that the Penguins ARE gonna close out the Flyers in Pittsburgh tonight, but once again, the number, -$240, is a bit too rich for my wallet...