Ecks & Bacon....Feel The Sizzle!!!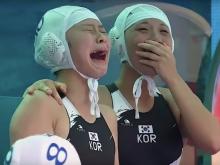 Las Vegas - Saw this picture of the South Korea women's water polo team, and my first reaction was, somebody had an accident, got hurt, and really bad. Actually, it was crying & gobs of tears after the women finally scored a goal. Lemme explain...
After suffering a record 64-0 defeat by Hungary in their Group B opener at the weekend, the host ladies were battered 30-1 by the 2017 bronze medallists Russia on Tuesday...So, the women's water polo team lost their first two games at the world championships by an aggregate score of 94-1...
It's the ONE goal they scored that caused an eruption at the side of the pool...
When you lose 64-0, and are in a 30-0 hole in the next game, one goal feels like they just won the gold medal...
If you interested, South Korea was bombed by Canada in its final game, 22-2...
So, 116-3 was the final tally, but those THREE goals will go down in South Korea as a YUGE WIN!!!