Ecks & Bacon....Feel The Sizzle!!!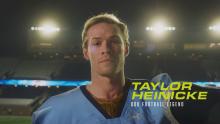 Thursday, September 16, 2021
Las Vegas - Two words that might not be familiar: Taylor Heinicke. After Ryan Fitzpatrick went down with a hip injury last week, the Washington Football Team is gonna throw backup QB Heinicke into the mix. A few words about Taylor because many of you asked. Wiki tells me that he is from Lawrenceville, Georgia and at age 28, has made a handful of stops in the NFL (Vikings, Patriots, Texans, Panthers), as well as a cup of coffee, literally, he never got on the field, with the St. Louis BattleHawks in the XFL. Sure he played for a school, Old Dominion, that you don't normally associate with great QBs, but man, did he whip that ball around for the Monarchs. He averaged out with a 67% completion rate over four years, and is proving to be spot on again in the NFL. Last week, after replacing Fitz, he went 11 for 15 (73%) for 122 yards, 1 TD and no INTs. Another accurate arm, Teddy Bridgewater, had his way with the New Yorkers last week, hitting on 28 of 36 for 264 yards, 2 TDs and no INTs. Not saying that Heinicke is a Teddy Bridge, but he's certainly good enough to hold off the Giants. History tells us that the NYG have owned the WFT the last few years, winning six of the last seven, but the visitors from New York have NO running game, a shaky QB (Daniel Jones) and a banged up defense. And we're hearing chatter about Washington's D being soft. Okay, they gave up 337 air yards last Sunday to the Chargers, but did manage to limit one of the best young QBs in the league, Justin Herbert, to only two TDs and two FGs. Bend but don't break. Gonna bend a few bucks toward the kids from Washington, but just a few.
And if you're wondering where the money is flowing on the college games here in Vegas, and now, around the country, check it out. It's basically a 'who cares' game, not really on anyone's radar, except, the WISE GUYS. Eastern Michigan opened up at -18 points against Massachusetts, and the 'sharps' have bet Eastern up to -22. Coastal Carolina is also feeling some heavy cash flow, as the Chanticleers opened -10.5 over Buffalo and jumped all the way to -14. And apparently, no one liked the way Ohio State looked against Oregon last week, which is why the Buckeyes have fallen from a -26 open down to -24 against Tulsa. Keep your eyes right here for all the money moves throughout the week.
------------------------------------------------------------------