Ecks & Bacon....Feel The Sizzle!!!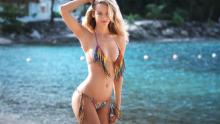 Sunday, February 25, 2018
Did a little more research into the fringe...
Say hello to Rebecca Ferguson!!!
YES, Pete Rose bet on baseball games. YES Pete Rose deserves to be in the Hall of Fame. Here's what MLB Commish Rob Manfred said at MIT just recently. "I became convinced over the course of our review that Pete should not be allowed to participate actively in our game because he has a propensity to bet on our game. And I think that can affect the integrity. Those same concerns, I don't think, should determine whether or not your name goes on a ballot or you can be considered by a committee and go into the Hall of Fame. I see those issues differently. The Hall of Fame, so far, has not agreed with me." WOW! Of course, we are a little biased since our bread is buttered in the world of gambling. Actually, have some fun Pete stories, not for this space, but when I see any of you in Vegas, I'll drop some stuff.