Ecks & Bacon....Feel The Sizzle!!!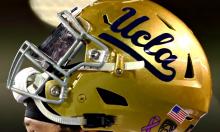 Monday, September 23, 2019
Las Vegas - Don't have much of a feel for the Bears/Redskins game, but if you follow line moves, Chicago, which opened at -4.5, is now up to -5, and even -5.5 at a few sportsbooks here in Vegas. Still not gonna open the wallet.
Hope all you East Coasters stayed up late Saturday night. If not, you missed one of THE MOST EPIC games in college football history. If I told you that team A would score 63 points and its QB would have NINE TDs, and team B was 0-3 coming in and was outscored 95-42, how many points would you have been willing to lay? Thirty, forty, fifty? UCLA was down 49-17 to Washington State, AT Pullman, a 32 point deficit with 6:17 to go in the 3rd quarter. The Bruins then went NUTZ and scored 50, yes, FIFTY POINTS, and wound up with a 67-63 win. So, if anyone tells you they have a handle on this thing called BETTING, ignore them and RUN the other way as fast as you can.
------------------------------------------------------------------