garf
Tuesday, November 24, 2020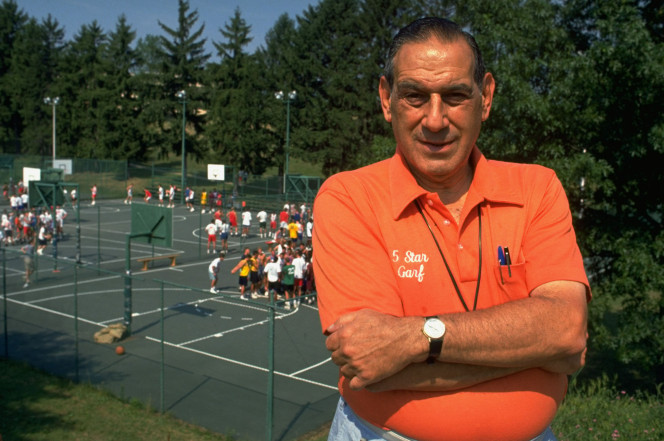 Las Vegas - One more day to the start of the college hoop season, and there are like 247 games on the betting board. Okay, that's a bit of an exaggeration. There are only 56 games, depending on Covid 19, and obviously, a chance to cash a few tickets. Before you hit the app on your phone, or stroll down to the sportsbook, lemme tell you about THE BEST college hoop guys working...the Three Man Weave.
I was fortunate enough to have a 40 year friendship with THE MOST amazing hoop mind in the world, Howie Garfinkel. The GARF as most called him, ran the storied Five Star Basketball Camp for like 30 years. If you're not familiar, aside from my son, the list of players that went through Five Star and moved from high school, to college, to the NBA, to the Hall of Fame is STAGGERING!!! You want the starting five. Pick from this list.
Michael Jordan, Patrick Ewing, Dominique Wilkins, Isiah Thomas, Chris Mullin, LeBron James, Chris Paul, Kevin Durant, Stephen Curry, Carmelo Anthony, Kemba Walker, Tobias Harris, Kyrie Irving, and Karl-Anthony Towns have all worn the orange and white t-shirt. Who do you want to coach 'em? Pick from this list of Five Star instructors.
Mike Krzyzewski, Bob Knight, John Calipari, Rick Pitino, Jim Boeheim, Bill Self, Roy Williams, Jim Calhoun, Gary Williams, Larry Brown, Hubie Brown and Chuck Daly.
So, the torch passes from the GARF to the Weave. These guys have locked down every conference with extensive write-ups. Here's just a little taste of the Villanova preview:
'When I lay my head down to sleep at night, I don't dream of Mena Suvari in a pile of red roses – I dream of Villanova's offense in a pile of red roses. The Cats run arguably the most beautiful offense in the entire country, an offense that prioritizes spacing and shooting threes. Since 2014, Jay Wright's offense has ranked 21st, 4th, 3rd, 3rd, 1st, 16th, and 15th nationally and last year ranked 9th in percentage of points scored from behind the arc.'
My admiration for the Weave has dropped from 100% to 97.5% because they would rather dream of 'Nova's offense than Mena Suvari. C'MON guys, put the ball down for a second!
Also got a plethora of props, learned that word in the hysterical "Three Amigos" movie, for the upcoming Mike Tyson/Roy Jones Jr. exhibition match. Yea, there will certainly be a prop about Tyson biting an EAR!!! And yea, we will make a few bucks!
----------------------------------------------------