ktyrie4
Thursday, January 7, 2021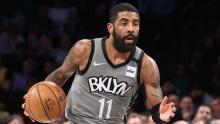 Las Vegas - Gonna dribble on to the NBA hardwood and grab the Nets +2.5 points over the 76ers. Yea, Philly is 6-1 and leading the NBA Atlantic Division, but lets dig a little deeper into that 6-1. The Sixers opened with a pair of victories over a lousy Washington team (2-5) and a surprising, for now, New York team (4-3). Then they lost to Cleveland before ripping off four in a row against the Raptors (1-5), Magic (5-2) and two Ws against the Hornets (2-5). So, you can see the 6-1 has been built on the weak sisters of the NBA. Brooklyn AIN'T a weak sister, and even though the record is just average at 4-4, the last win against Utah was YUGE. The Nets destroyed the Jazz, 130-96, and that was WITHOUT Kevin Durant who is in quarantine. So, obviously, they need Kyrie Irving to step up, and BOY, he sure did. Irving dropped 29 points, six boards and five assists against Utah. But it was his work in the 1st quarter that caught our eye. He scored scored 18 points on 7-of-7 shooting. Brooklyn had substantial leads (20-4 and 28-7) before ending the quarter up 35-14. That's why we're gonna take the train to Prop City, and recommend Kyrie OVER on his total points prop, and also tickle Brooklyn to win the first quarter. Why??? Thinking that the 76ers might be a little sluggish to start the game coming off last night's effort against the Wizards.
Thx for enjoying this writeup, but NEVER MIND!!!
Just got word three minutes ago that Kyrie is OUT!!!
OBVIOUSLY, this becomes a NO PLAY!!!