Ecks & Bacon....Feel The Sizzle!!!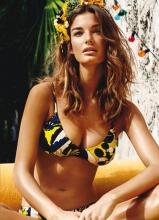 Gingham it is...those who followed know what I'm saying...
Today, we go with Ophelie and flowers...
So, I'm sitting at a Starbucks here in Vegas, putting together some odds for the upcoming MLB season for the Ecks & Bacon nation, and this guy with a hoodie sits down a few seats away. Starts talking to another guy, also with a hoodie, and tells him that he's THRILLED he ONLY got three years PROBATION. The other hoodie asks what for? The first hoodie says, ROBBERY!!! My question to you all is, would you have stayed, or, packed up and left?
One more night of Sweet 16 action, and nothing is jumping at me. Looked at the Purdue - Texas Tech game, and my spread bible tells me that the Boilermakers have covered only two of the last 15. A 13% cover rate is sending me right to the counter to buy a ticket on Tech. Oops, not so fast. Looked at the Red Raiders work against the spread, and found they have covered just one of the last nine. The calculator says that's 11%. Since I have Tech at 75/1 on a future bet to lift the trophy, I'll just pass on a game wager and root like crazy. None of the other games spoke to me, but might just before tipoff. Hit me on Twitter, @vegasvigorish, just in case.