soroka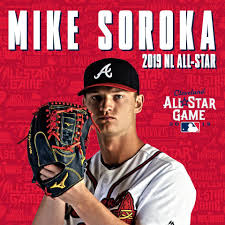 Las Vegas - Mike Soroka. Get to know that name. This 22-year old baby from Calgary, Canada can make other teams look silly. He started out kinda slow in 2018, with a 2-1 record and a 3.51 ERA. Last season, he busted out with a 13-4 mark, a skinny 2.68 ERA, and a spot on the All-Star team. His first effort this season against the Mets was another master class, going 6 innings, allowing four hits, with all ZEROES on the board. That really does not surprise me, because the 'Rock' was SHUT DOWN-good to start the 2019 season. In his first five starts, he allowed only 4 earned runs over 36 innings for a RIDONKULOUS 1.00 ERA. Oh yea, he posted 34 Ks during that stretch, which is just about a strikeout per inning. Pushing the chips to the center of the table on Soroka and the Braves.
If you have not heard yet, MLB has suspended all the Marlins games until Sunday.
The only pitching change to report is for St. Louis. The Cards have posted Daniel Ponce de Leon as the starter for the game against the Twins in place of Miles Mikolas.
------------------------------------------------------------------