ufc 12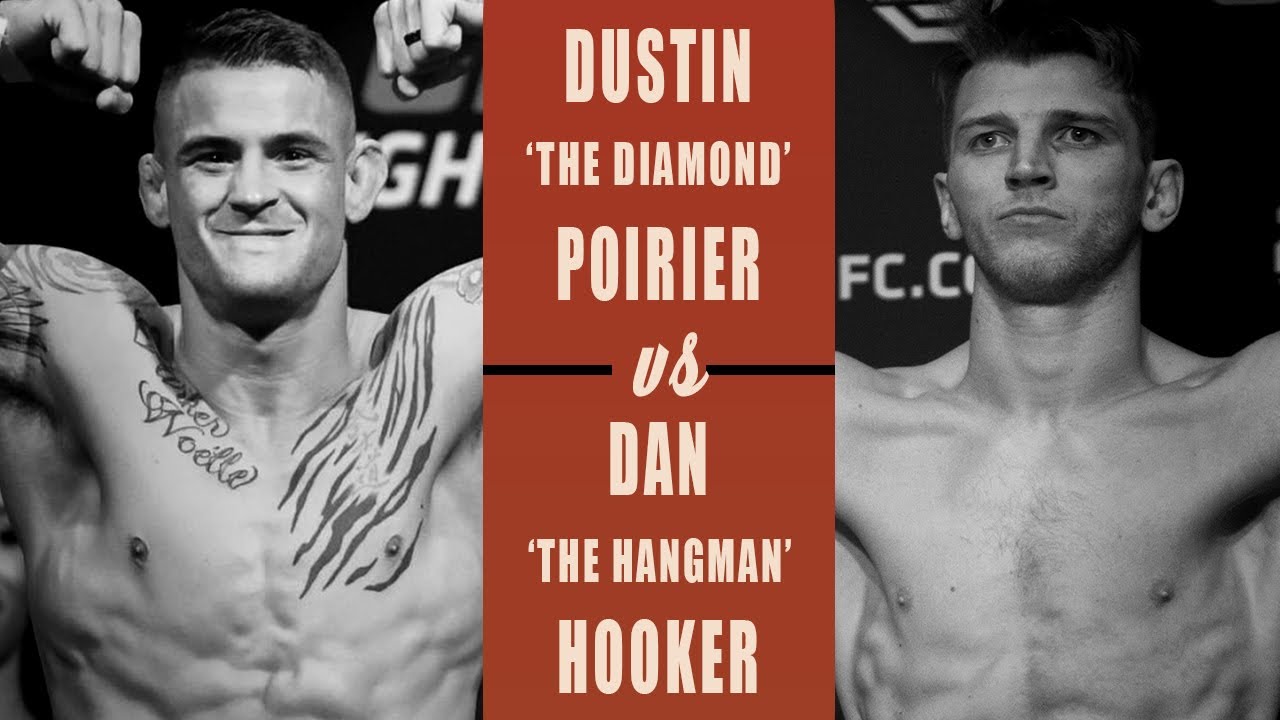 Las Vegas - Looking ahead to the Octagon tomorrow night and gonna dissect Dustin (The Diamond) Poirier vs. Dan (The Hangman) Hooker.
Right off the top, lemme be the first to ask Hooker to change his nickname. Yo Dan, you CAN NOT go with Hangman any more. Got a few choices. Tell me which one you like best. Actually gonna open it up to the Ecks & Bacon Nation and see if they have something tasty. Will try and get to Hooker's camp and see if he will accept our new nickname.
Here are a few of my choices.
- Dan (Da Hook) Hooker
- Dan (Give 'em the Hook) Hooker
- Dan (The Man) Hooker
- Dan (The Kiwi) Hooker
- Dan (Middle Earth) Hooker
Mrs. Ecks & Bacon is looking over my shoulder, so you KNOW what time it is. Ladies & Gentlemen, The Tale of the Tape.
The Diamond is 31 years old from Lafayette, Louisiana. The Ragin' Cajun tips the scale at a buck 55, is 5'9" and has a 72" reach. His MMA record is 25-6 with one no contest. Dustin has recorded 12 wins by KO, 6 by decision and 7 by submission. In case you're interested, his chest and arms are covered in tattoos, including three Japanese characters on his chest that say bushido, which means, the way of warrior. The only reason I mention this is because my current read is "The Book of Five Rings," by Miyamoto Musashi, which is about the way of the sword. Just sayin'.
More importantly, Poirier and his wife set up the Good Fight Foundation back in 2019. They have given away a TON of stuff including 500 backpacks for school children, and 1000 meals to the employees of the three major hospitals in his hometown of Lafayette. Right now, I'm giving Dustin & his wife a STANDING O!!!!!!
Hooker is 30 years old from Auckland, New Zealand, tips the scale at a buck 56, is 6'0" and has a 75" reach. His MMA record is 20-8, with 10 wins coming by KO, 3 by decision and 7 by submission. Dan the Man comes in on a three fight winning streak, and has won six of the last seven with the only loss coming from an Edson Barboza body punch TKO.
A few geek stats that might help you handicap this match. Poirier lands an average of 5.51 and absorbs an average of 3.97 significant strikes per minute. Hooker lands an average of 4.76 and absorbs an average of 4.67 strikes per minute. Poirier averages 1.55 takedowns per 15 minutes, while Hooker averages 0.43 takedowns per 15.
Don't actually own any diamonds, but gonna roll with THE Diamond in this fight.
----------------------------------------------------