woodley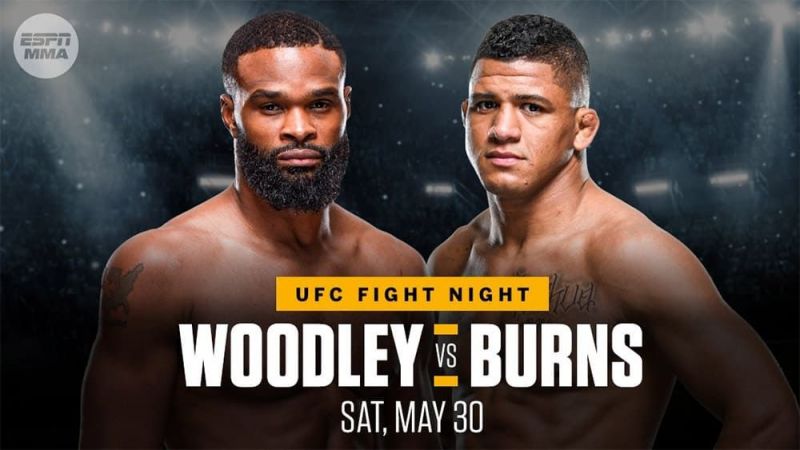 Las Vegas - The other co-main event tonight is a welterweight fight between Tyron (The Chosen One) Woodley at -$180 vs. Gilbert (Durinho) Burns at +$160.
And of course, we always present the Tale of the Tape. Woodley is 38 years old from Ferguson, Missouri. He tips the scale at around a buck 71, is 5'9" and has a 74.0" reach. His MMA record is 19-4, with 7 wins coming by KO, 7 by decision and 5 by submission.
Burns is 33 years old from Rio de Janeiro, Brazil. He tips the needle at around a buck 70, is 5'10" and has a 71.0" reach. His MMA record is 18-3, with with 6 wins coming by KO, 4 by decision and 8 by submission.
This event will take place in Vegas at the UFC Apex Center, which is a smaller 25-foot Octagon instead of the normal 30-foot ring. Burns says he will have a slight edge, "The biggest cage, the ginormous one where they fight for the title, that one is too big. But this one, yeah, it works a little bit to my advantage. I like to grapple. That's where I feel most comfortable."
So which way to turn.
The Chosen One just turned 38, has not been inside the Octagon since March 2, 2019, and appears to be more interested in his budding acting career/podcasts than the ring. He hosts a weekly internet web show on TMZ called 'The Hollywood Beatdown.' If you're interested in his acting chops, you can catch him in 'Straight Outta Compton,' or 'Kickboxer: Vengeance and Sultan.'
Like the fact that Durinho, which translates to Little Tough Guy, comes in rocking a 5-0 winning streak. Also like the fact that he just fought on March 14 of this year, knocking out Demian Maia in the 1st round. Woodley has had a remarkable career, but it might be time for him to put his gloves away. Gonna ride with the underdog here, and push a handful of chips in on that Little Tough Guy, Gilbert Burns.
And if you missed yesterday's selection, we're rolling with Augusto (AquaMan) Sakai over Blagoy (Bagata) Ivanov, even though Baga once hailed a cab to the hospital after getting stabbed in the heart!!!
----------------------------------------------------